This article is about the restaurant. For the Popeye character, see J. Wellington Wimpy. For other meanings, see Wimpy (disambiguation).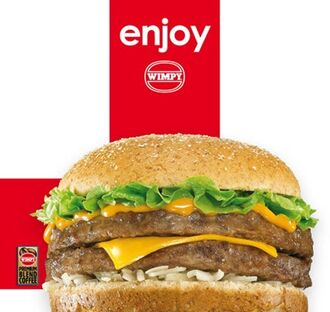 The Wimpy Bar, or simply Wimpy, is a multinational hamburger restaurant chain started in the United Kingdom in 1954. Originally a much-smaller chain founded in the United States in the 1930s, there it had used hamburger-eating Popeye character J. Wellington Wimpy as its symbol and inspiration. The Wimpy Bar debuted in London as the fast-food section of Corner House restaurants, but its success soon allowed it to become a separate chain and expand across Britain and later, to other parts of the world.
Upon its British debut, the franchise broke away from its Wimpy-inspired roots and did not reference the Segar character anymore, instead employing its own derivative mascot: "Mr. Wimpy".
Trivia
See also
External links