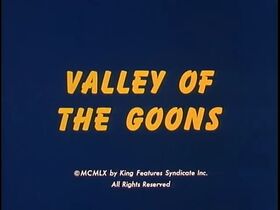 "The Valley of the Goons" is a 1960 episode of Popeye the Sailor.
Plot
After Popeye discovers that a group of pirates plan to hunt down the Goons for clothing, he makes it his mission to help his old goony friends and put a stop to the pirates for good.
Notes
This episode first aired November 11, 1960
Directed by Seymour Kneitel
This is one of 63 episodes produced by Paramount Cartoon Studios for the Popeye the Sailor TV series.
This episode is available from Warner Archive on the Popeye the Sailor The 1960s Classics Volume One DVD set.
Gallery
External links