"The Three Ring Ding-a-ling" is an episode from The All-New Popeye Hour's "The Adventures of Popeye" segment for Hanna-Barbera Productions in association with King Features Syndicate. It first aired on December 23, 1978 and was directed by George Gordon, Carl Urbano and Rudy Zamora. Popeye was voiced by Jack Mercer, Olive Oyl was voiced by Marilyn Schreffler, Wimpy was voiced by Daws Butler and Bluto was voiced by Allan Melvin.
Plot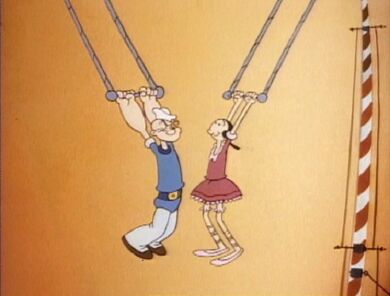 The Ding-a-ling Bros. Circus is in town. Wimpy is the ringmaster and is kept well supplied with hamburgers by a vendor on a chain. Bluto is the strongman, naturally. Popeye and Olive are the stars of the trapeze.
Bluto is jealous of Popeye so he tries to mess up his act every chance he gets. All his nasty tricks only make Popeye and Olive's stunts look more spectacular. First, he tricks Popeye into catching his barbells. This causes Popeye to fall and land on the acrobats' teeter-totter. When the acrobats are catapulted up, Olive catches them and the crowd goes wild.
Popeye gets even with Bluto as he is lifting an elephant to show his strength off. Popeye swings by and picks up a second elephant by the tail. When Popeye puts it on top of the first, Bluto sinks into the ground and the crowd loves it.
Next, Bluto makes Popeye miss catching Olive on her trapeze. Bluto catches her and she screams to Popeye for help. Popeye wraps a rope around his waist to drop down yo-yo style to rescue her. He lifts her safely to the trapeze platform in the same yo-yo fashion. The crowd gives them a big round of applause.
Bluto then turns off the lights as Popeye and Olive are in mid-swing. Popeye lands in a lion's mouth and Olive lands on a seal that Bluto is holding with his feet. Popeye swings out like Tarzan to lift Olive safely back to their platform. Once again the crowd goes wild.
On Bluto's last trick, he throws a lion upwards to Popeye to make him fall into a cannon. Bluto shoots Popeye out of the big top then climbs up to the platform to chase after Olive. Bluto traps her on the high wire between him and the lion on the trapeze. Olive yells to Popeye for help so he eats his spinach to rocket back down to the rescue. He stretches the high wire to the ground to save her then releases it to shoot Bluto out of the big top like a bow and arrow.
Episode details
This segment was from episode 16 in the series, aired in season 1, episode 16 of The All-New Popeye Hour. Below is a list of the other segments for this episode.
External links