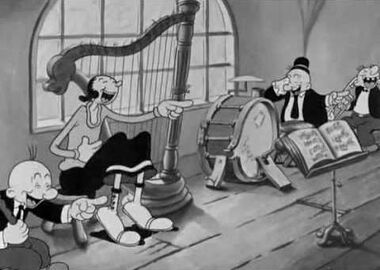 The Spinach Overture is Popeye's 28th cartoon, produced by Fleischer Studios and released on December 7, 1935. It contains a rare animated appearance by Castor Oyl, while Oscar makes one of his cameo appearances.
Plot
Popeye's ensemble is rehearsing the opening of the Poet and Peasant Overture (with snippets from the Popeye theme and "The Sailor's Hornpipe"). The band consists of Olive and Castor Oyl, Wimpy and Oscar, with the Sailorman in the role of conductor. Next door stands Maestro Bluto before his own orchestra. He pays a visit to the competing group, laughing, and shoves Popeye aside to demonstrate how it should be done. He conducts at the same time as he aptly plays the violin, which Popeye then attempts to replicate with less success. The Maestro does it again with the piano, and the sailor's attempt ends with his fingers tied. His laughing musicians are led away to join Bluto's orchestra. As the hero sits before the piano in frustration, he takes out his can of spinach from inside it and takes a bite. He soon realizes the greens turn him into a virtuoso, so he rushes to the next room where he proceeds to punch Bluto out of his post and his conductor wig, and puts on an impressive display while easily deflecting Bluto's attempts at revenge via various instruments. Although disrupted by the bulk of the former maestro crashing into it, the orchestra succesfully ends the piece, with an excerpt from "I'm Popeye the Sailor Man".
External links
Community content is available under
CC-BY-SA
unless otherwise noted.