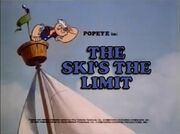 "The Ski's the Limit" is an episode from The All-New Popeye Hour's "Popeye" segment for Hanna-Barbera Productions in association with King Features Syndicate. It first aired on September 16, 1978 and was directed by George Gordon, Carl Urbano and Rudy Zamora. Popeye was voiced by Jack Mercer and Olive Oyl was voiced by Marilyn Schreffler.
Plot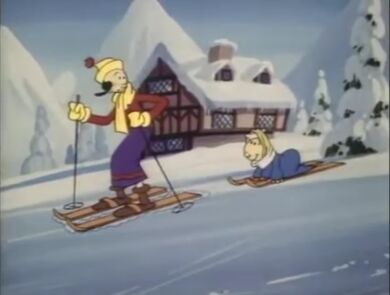 The proprietor of Slippery Slope Ski School, Olive Oyl, is teaching Swee'Pea how to ski. He is a natural on skis and learns very quickly. He starts to ski circles around Olive before they reach the bottom of the slope.
Popeye tries to learn also, but he is hopeless. He gets tangled up in the rope tow, in the trees and even in his own skis. Popeye eventually starts to make his way up the slope on the tow bars as Swee'Pea is threatened by an avalanche. Olive tries in vain to rescue him but she ends up racing away from the thundering snow as well.
Popeye goes to their rescue with the help of his spinach. He first uses a picket fence to divert Olive and Swee'Pea out of the avalanche's path. Next, he makes a giant snowball to bowl over some trees to make a snow break.
Episode details
This segment was from episode 2 in the series, aired in season 1, episode 2 of The All-New Popeye Hour. Below is a list of the other segments for this episode.
External links