"The Sailor's Hornpipe" or "The College Hornpipe" or "Jack's the Lad" or "The Jig of the Ship" is a traditional hornpipe dance melody.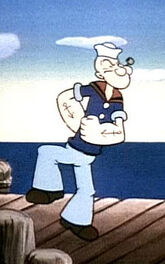 The usual tune for this dance was first printed as "The College Hornpipe" in 1797 or 1798 by J. Dale of London, although it was found in manuscript collections before then. The dance evokes the life of a sailor and their duties aboard ship. Sailors from the Royal Navy are believed to have invented the solo dance as an exercise. Due to the small space that the dance required, and no need for a partner, it was a popular on-board activity.
It is likely that "The Sailor's Hornpipe" was originally performed on the wet deck of a ship, in bare feet. Accompaniment may have been the music of a tin whistle or, from the 19th century, a squeezebox. Samuel Pepys referred to it in his diary as "The Jig of the Ship", and Captain Cook, who took a piper on at least one voyage, is noted to have ordered his men to dance the "Hornpipe" in order to keep them in good health. The dance on-ship became less common when fiddlers ceased to be included in ship crews.
Usage in Popeye cartoons
The tune has been played in animated Popeye cartoons since their debut in 1933, usually as part of the opening credits, combined with an instrumental rendition of "I'm Popeye the Sailor Man". The melody could also be used as a background theme, as in The All-New Popeye Hour.
The sailor himself is also seen to perform the dance, or at least some of its moves, in certain Fleischer Studios shorts or in the All-New Popeye Hour intro.
Lyrics
(These lyrics were first created for the 1951 Disney film Alice in Wonderland)
Oh a sailor's life is a life for me,
How I love to sail
On the bounding sea.
And I never never ever
Do a thing about the weather
For the weather never ever
Does a thing for me.
Oh a sailor's life is a life for me,
How I love to sail
On the bounding sea.
If you want to sail
A ship like mine
And be a sailor all the time
Then learn to do
The Sailor's Hornpipe
Just like me.
And I love the wind a'blowin'
as we leave the quay,
'Til we round the jetty and
We let the sail blow free.
'Cause I always had the notion
For a life upon the ocean
Dance the Hornpipe to the
Motion of the rolling sea.