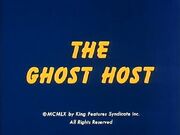 "The Ghost Host" is a 1960 episode of Popeye the Sailor.
Plot
While out driving, Popeye and Olive must take shelter from the rain in an old house on a hill. Unbeknownst to them, it is 'the Haunted House (Strangers Welcome)', and they are mercilessly harassed by three ghosts until Popeye eats his spinach and drives them out of the house.
Notes
This episode first aired November 6, 1960
Directed by Seymour Kneitel
This is one of 63 episodes produced by Paramount Cartoon Studios for the Popeye the Sailor TV series.
This episode is available from Warner Archive on the Popeye the Sailor The 1960s Classics Volume One DVD set.
External links