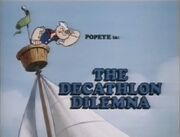 "The Decathlon Dilemna" [sic] is an episode from The All-New Popeye Hour's "The Adventures of Popeye" segment for Hanna-Barbera Productions in association with King Features Syndicate. It first aired on January 6, 1979 and was directed by George Gordon, Carl Urbano and Rudy Zamora. Popeye and Poopdeck Pappy were voiced by Jack Mercer.
Plot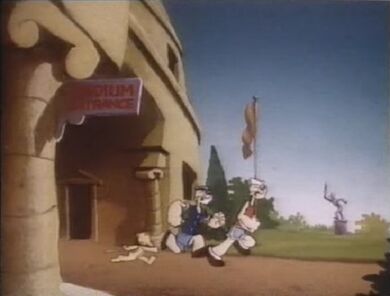 Popeye is getting out all his track and field equipment. He is planning to head out to the stadium to practice for an upcoming decathlon. Pappy wants to go along also, but Popeye tells him to stay home because he is too old and might get hurt.
However, Pappy goes out to the stadium anyway. Eugene the Jeep helps Pappy teach his son a lesson. Just because he is old, it does not mean that he cannot compete. It turns out that Pappy saves Popeye from breaking his neck. After that, Popeye allows him to stay around for a while.
Episode details
This segment was from episode 17 in the series, aired in season 1, episode 17 of The All-New Popeye Hour. Below is a list of the other segments for this episode.
External links