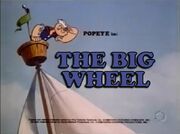 "The Big Wheel" is an episode from The All-New Popeye Hour's "Popeye" segment for Hanna-Barbera Productions in association with King Features Syndicate. It first aired on September 16, 1978 and was directed by George Gordon, Carl Urbano and Rudy Zamora. Popeye was voiced by Jack Mercer, Olive Oyl was voiced by Marilyn Schreffler and Bluto was voiced by Allan Melvin.
Plot
Popeye, Olive Oyl and Bluto are in an amusement park. Both Popeye and Bluto want to be alone with Olive. Naturally, Bluto starts planning little schemes to get Popeye out of the picture.
His schemes lead them both to start fighting. Bluto's first attempt was before they even entered the park. He used the entrance turnstile to 'spin' Popeye into the air. The only thing this accomplished was to put Olive in danger on the 'Boat Ride' instead.
Bluto and Popeye behaved themselves for a while after that. They only tried to sabotage each other's attempts at the 'Ring the Bell Win a Doll' carnival game. This failed because Olive had to win the doll for herself.
Bluto's next plan gets Popeye stranded on the top of a roller coaster. It also gets Olive stranded on the top of a Ferris wheel. Popeye eats his spinach to rescue her. At the end of it all, Popeye's own scheme gets Bluto out of the way. Popeye uses the 'Parachute Jump' ride to get him hung-up and out of the way. Popeye ends up with Olive Oyl all to himself.
Trivia
In this episode, the animators reused a portion of background images. As Olive and Bluto are walking through the park they pass a man eating a hamburger. A few seconds later, they pass the same man again eating the same hamburger.
Episode details
This segment was from episode 2 in the series, aired in season 1, episode 2 of The All-New Popeye Hour. Below is a list of the other segments for this episode.
External links