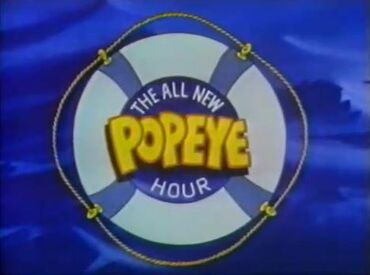 The All-New Popeye Hour or The Popeye and Olive Comedy Show or The All-New Popeye Show or Popeye: The Continuing Adventures is a television series produced by Hanna-Barbera Productions and King Features Syndicate, which originally aired on the American television channel CBS from 1978 to 1983.
The show stars Popeye, in an attempt by Hanna-Barbera to bring him back to his comic roots. Several characters from the comics were featured and Popeye went back to wearing his civilian sailor clothes, abandoning the white Navy uniform he had worn for many earlier theatrical cartoons and the previous TV show, Popeye the Sailor (though he still wore a Navy sailor's cap, as in certain comics). Bluto was also brought back, since the aforementioned show had instead employed Brutus as its main villain. Unlike the theatrical shorts, the series is less violent, due to children's television cartoons at the time having to comply with content restrictions on violence, and consequently in this show Popeye was never shown throwing punches at Bluto; he often lifted him instead, with his own hands or with machinery, and hurled him away.
The hour-long program paired Popeye with an unrelated series, Dinky Dog, until it became a half-hour show in 1981, undergoing the name change to The Popeye and Olive Comedy Show and lasting until 1983. This series was also the last time Jack Mercer voiced Popeye before his death.
Segments
Also, in between the above segments, untitled, short "morals" would be featured, often starring Pipeye, Peepeye, Poopeye and Pupeye engaging in potentially harmful activities, sometimes encouraged by Mr. No-No. This would prompt Popeye to teach his nephews, along with the children in the audience, a life lesson.
Film
In the second year of the series, there was also a holiday television film: The Popeye Valentine Special: Sweethearts at Sea.
External links