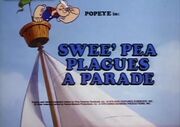 "Swee' Pea Plagues a Parade" is an episode from The All-New Popeye Hour's "The Adventures of Popeye" in association with King Features Syndicate. It first aired on December 3, 1979 and was directed by Ray Patterson and Carl Urbano. Popeye was voiced by Jack Mercer, Olive was voiced by Marilyn Schreffler and Wimpy was voiced by Daws Butler.
Plot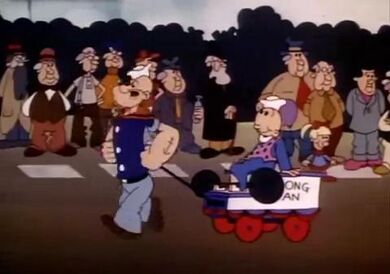 Swee'Pea is entered in a baby parade as a baby strongman. After Olive finishes his costume and Popeye finishes his float, Olive leaves to find a seat in the stands. Popeye follows later with Swee'Pea to enter the parade.
As Popeye gives Swee'Pea instructions, Swee'Pea jumps off the float to chase a balloon. Both Popeye and Olive follow Swee'Pea into an amusement park. They are led through the Ferris wheel, the clown tent, a hot air balloon and the roller coaster.
They finally get Swee'Pea back after he eats Popeye's spinach. Swee'Pea uses his super strength to fly up and rescue them from the roller coaster. Swee'Pea wins the parade contest by carrying Popeye and the float past Judge Wimpy.
Episode details
This segment was aired in season 2, episode 13 of The All New Popeye Hour. Below is a list of the other segments for this episode.
External links