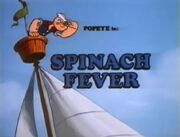 "Spinach Fever" is an episode from The All-New Popeye Hour's "The Adventures of Popeye" segment for Hanna-Barbera Productions in association with King Features Syndicate. It first aired on October 28, 1978 and was directed by George Gordon, Carl Urbano and Rudy Zamora. Popeye was voiced by Jack Mercer, Olive Oyl was voiced by Marilyn Schreffler, Wimpy was voiced by Daws Butler and Bluto was voiced by Allan Melvin.
Plot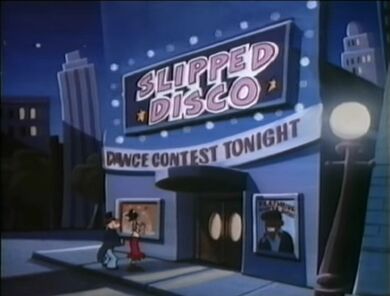 Popeye takes Olive out for a night on the town to a discotheque called The Slipped Disco. Wimpy is the smooth talking, silver-tonged disk jockey and Bluto is Mr. Disco. Popeye and Olive start off with some classic disco dances then they really start cutting it up on the dance floor.
When Bluto comes strutting on the floor, Olive gets weak in the knees for his fancy moves. Bluto picks Olive to dance with him, which gets Popeye a little hot under the collar with jealousy. They go back and forth cutting in on each other to put the moves on Olive. Before long, Olive has enough of Bluto's dancing but he will not let her go so she calls for Popeye to come to her rescue. With the help of his spinach, he puts Bluto in his place and shows Olive some steps of his own. His fancy footwork makes a big hit on the floor and Wimpy announces them the winners of the disco dance contest.
Episode details
This segment was aired in season 1, episode 8 of The All-New Popeye Hour. Below is a list of the other segments for this episode.
External links