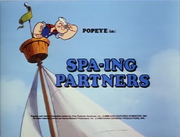 "Spa-ing Partners" is an episode from The All-New Popeye Hour's "The Adventures of Popeye" in association with King Features Syndicate. It originally aired on January 7, 1980. It was directed by Ray Patterson and Carl Urbano. Popeye was voiced by Jack Mercer, Olive Oyl was voiced by Marilyn Schreffler and Bluto was voiced by Allan Melvin.
Plot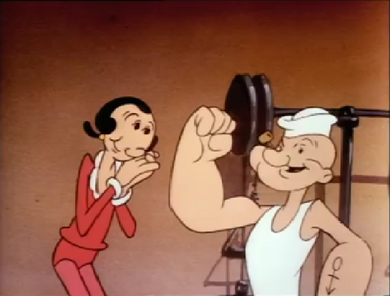 Popeye and Bluto notice a sign in the window of Olive's Health Spa advertising the need for a new instructor, so they both apply for the job. Olive is delighted to have two applicants to choose from, so she tells them to change into work-out clothes for their tryout. Bluto immediately starts to sabotage Popeye's chances to get the job by stuffing him into a locker.
Olive tests the knowledge of both candidates on all the health spa's equipment. The first item is a weight training machine called the Flex-A-Sizer. Bluto goes first, but Popeye matches the same weight limit using only his toes and fingers. Next, they must show their skill with the barbells, slant board and treadmill. Bluto expectedly clobbers Popeye with the barbells to get him out of the way. The sailor comes back by turning the speed on his competitor's treadmill. This gets Bluto steamed - so he locks Popeye in the steam room.
After putting them both through her tasks, Olive offers the job to Popeye, not knowing that he is locked up. With Popeye out of the way, Bluto makes his move on Olive in the Water Tornado Massage. Popeye hears Olive scream for help and eats his spinach to blow down the locked door and saves her from the whirlpool. Popeye then forms all the barbell weights into a steamroller and rolls Bluto out of the building.
Trivia
There is an animation error in this episode. When Bluto throws Olive in the Water Tornado Massage she is wearing a white belt. When Popeye pulls her out, she is not wearing it.
Episode details
This segment was from episode 44 in the series, aired in season 3, episode 4 of The All-New Popeye Hour. Below is a list of the other segments for this episode.
External links