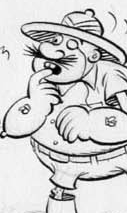 Sir Pomeroy, 10th Earl of Vauxhall is a character that featured in the daily Popeye comic strips (formerly Thimble Theatre) of the mid-to-late 1950s. He was created by writer Ralph Stein and artist Bill Zaboly.
Sir Pomeroy, or just "Pommy", was a British explorer that regularly went on adventures around the world. Having befriended Popeye, he invited the strong sailor to become his globetrotting companion, until the British lord finally decided to retire from such perilous life (as the character was phased out). Decades later, Sir Pomeroy would be featured in the strip again during Bobby London's tenure.
Like many Popeye characters, Sir Pomeroy has a distinctive speech pattern. In this case, a very British one.
External links

Characters