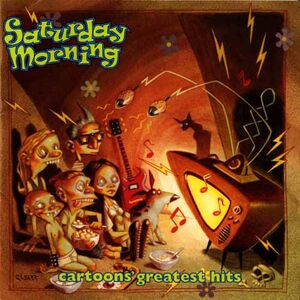 Saturday Morning: Cartoons' Greatest Hits is a 1995 tribute album of songs from various Saturday morning cartoon series, including Popeye's.
Track list
"The Tra La La Song (One Banana, Two Banana)" - Liz Phair With Material Issue
"Go Speed Racer Go" - Sponge
"Sugar Sugar" - Mary Lou Lord With Semisonic
"Scooby-Doo, Where Are You?" - Matthew Sweet
"Josie and the Pussycats" - Juliana Hatfield And Tanya Donelly
"The Bugaloos" - Collective Soul
"Underdog" - Butthole Surfers
"Gigantor" - Helmet
"Spider-Man" - Ramones
"Johnny Quest"/"Stop That Pigeon" - The Reverend Horton Heat
"Open Up Your Heart and Let the Sun Shine In" - Frente!
"Eep Opp Ork Ah-Ah (Means I Love You)" - Violent Femmes
"Fat Albert Theme" - Dig
"I'm Popeye the Sailor Man" - Face to Face
"Friends"/"Sigmund and the Seamonsters" - Tripping Daisy
"Goolie Get-Together" - Toadies
"Hong Kong Phooey" - Sublime
"H.R. Pufnstuf" - The Murmurs
"Happy, Happy, Joy, Joy" - Wax
Community content is available under
CC-BY-SA
unless otherwise noted.