This article is about the comic series. For its title character, see John Sappo.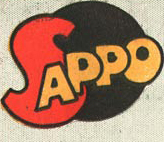 Sappo
or
The Five Fifteen
or
Sappo, the Commuter
or
Professor Wotasnozzle
or
Sappo and Wotasnozzle and Myrtle
is a comic strip begun in 1920 by
E. C. Segar
(as
The Five Fifteen
), then renamed after protagonist
John Sappo
as early as 1923. The strip was made into the "topper", or complementary strip, to Segar's better known
Thimble Theatre
(later
Popeye
) in its Sunday edition.
Sappo
characters sometimes have supporting roles in Popeye stories.
Plot
Sappo revolved around titular protagonist John Sappo and his everyday misadventures, such as the struggle to catch the 5:15 train or confronting his imposing wife Myrtle. However, the focus of the strip soon changed when, in May 8, 1932, the Sappos rented out a room to eccentric inventor and self-described genius O. G. Wotasnozzle, who arguably became the strip's new star. However, John Sappo still retained much protagonism as the testing of the Professor's inventions usually involved his participation and invariably ended in disaster. Stories of experiments gone awry would be continued from Sunday to Sunday (aside from a period when Segar retooled the strip as a series of drawing lessons). At one point, Wotasnozzle himself also got married, but the two protagonists' wives eventually stopped appearing altogether.
Comic book version
Sappo was subsequently published in the line of Popeye comic books begun in 1948 with story and art by Bud Sagendorf. Aside from giving protagonism to Ham Gravy and other secondary characters such as Wimpy for the book's supporting tales, and employing new characters like Sherm! and Axle and Cam, Sagendorf adopted Sappo in this capacity beginning in 1949, later to become the back-up feature of choice. Renamed again, this time bearing Professor Wotasnozzle's name, the strip became a mainstay of Popeye comic books in short, self-contained episodes.
In later years, IDW Publishing would likewise add a supporting feature starring Wotasnozzle and Sappo to their Popeye comic series.
External links
Community content is available under
CC-BY-SA
unless otherwise noted.