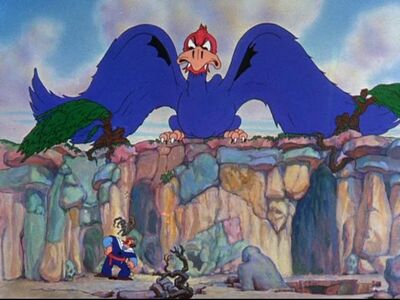 Rokh the roc bird is a giant beast which appears as a secondary antagonist in Popeye cartoons set in an Arabian Nights environment.
Character history
Fleischer Studios
Rokh the giant bird is employed as Sindbad's minion in 1936's Popeye the Sailor Meets Sindbad the Sailor, where its master releases it to attack Popeye. It carries the sailor protagonist away, who promptly comes back with the bird's body roasted on a giant platter.
Famous Studios
This encounter was seen again years later in 1944's Spinach Packin' Popeye and 1952's Big Bad Sindbad, both cartoons that flashed back to the earlier classic.
Trivia
Rocs were present in the original Middle Eastern tales of Sinbad's voyages, with him encountering the giant birds and their eggs during his second and fifth voyages, however he never actually owned one.

Since then, the Roc has become a consistent plot element in many adaptations of Sinbad.

Characters