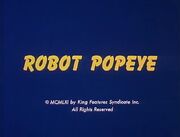 "Robot Popeye" is a 1961 Popeye the Sailor episode.
Plot
Brutus buys a patented Popeye robot to cause friction between Popeye and Olive.
Notes
This episode first aired September 15, 1961
Directed by Seymour Kneitel
This is one of 63 episodes produced by Paramount Cartoon Studios for the Popeye the Sailor TV series.
This episode is available from Warner Archive on the Popeye the Sailor The 1960s Classics Volume One DVD set.
External links