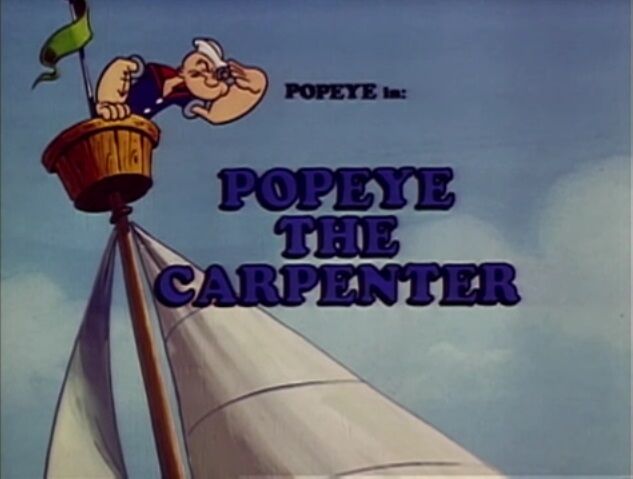 "Popeye the Carpenter" is an episode from The All-New Popeye Hour's "Popeye" segment for Hanna-Barbera Productions in association with King Features Syndicate. It first aired on September 9, 1978 and was directed by George Gordon, Carl Urbano and Rudy Zamora. Popeye was voiced by Jack Mercer, Olive Oyl was voiced by Marilyn Schreffler and Bluto was voiced by Allan Melvin.
Plot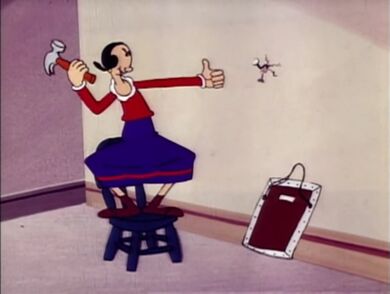 Olive is trying to hang a picture, but knocks a hole in the wall. She calls Popeye to come and help. Luckily Popeye just happened to be by the exact phone booth that she called.

Bluto was outside the phone booth listening to their conversation. He tries to get Popeye out of the way so he catapults the phone booth into the air. Bluto then rushes over to help Olive himself. Popeye is able to fly the phone booth to Olive's house and knocks Bluto through a wall.

It is not long before Popeye and Bluto destroy the whole house. Popeye rebuilds the house with the help of his spinach. However, when he tries to hang the picture again with "a teeny tap", the house comes crumbling down around him and Olive. At the end, Olive angrily beats up Popeye with the hammer.
Episode details
This segment was from episode 1 in the series, aired in season 1, episode 1 of The All-New Popeye Hour. Below is a list of the other segments for this episode.
External links