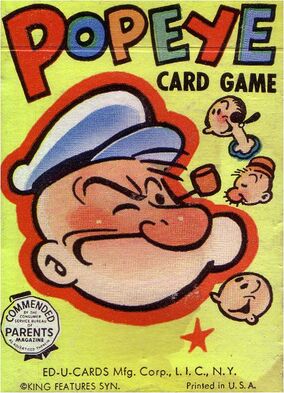 Popeye playing cards, various Western deck types featuring Popeye, and also unique card games, have been produced over the years. Several of the Western-type cards were published by Nintendo during its years as a toy manufacturing company. It is unknown what year Nintendo received the license to release the Popeye playing cards from King Features Syndicate, but it is presumed to have been sometime after they managed to get the rights to release Disney-themed playing cards in the 1960s. The boxes' backs feature no year.
It is unclear how many decks Nintendo released. At least ten are known of, although the number could be higher.
While Nintendo managed to receive the license to release Popeye-themed playing cards, they failed when trying to convince KFS to greenlight a Popeye arcade game. Donkey Kong was initially planned to feature Popeye characters, but when Nintendo was told Popeye was unavailable, Shigeru Miyamoto decided to include his own creations. Shortly after the success of Donkey Kong, KFS agreed to grant Nintendo the Popeye license.
Gallery
See also