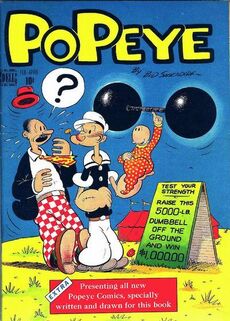 There have been several
Popeye
publications since the character first appeared amongst the cast of
Thimble Theatre
, starting with hardcover bound collections of the daily strips through the 1930s. This format continued in the early issues of the
Four Color
comic book series by
Dell Publishing
before evolving into new stories and art by
Bud Sagendorf
, formerly the assistant of Popeye creator
E. C. Segar
. These issues were followed by
the first and most famous Popeye comic series
in 1948, published by Dell, also with the talent of Bud Sagendorf. Many other editions by several publishers have been released over the years as well.
The Dell series was first titled simply Popeye. It was later titled Popeye the Sailor as it continued with Western Publishing under the brand Gold Key with issue #66 in 1962. The title remained with the other publishers that followed.
This comic book series mostly dealt with self-contained tales (unlike the original, serialized comic strip), usually featuring a longer lead story starring Popeye and a few shorter backups headlined by either Popeye or another character. Sagendorf even introduced new backup series such as Axle and Cam or Sherm! and equally used Segar's complement to the daily strip, Sappo, as the supporting feature in the book. Short text stories would also be included, as well as the later Popeye's Physical Fitness Program, with the format changing through the years.
Sagendorf eventually retired from the series, leaving his duties to artists such as George Wildman, when the series was picked up by Charlton Comics with issue #94 in 1969. Wildman continued when the series was once again picked up by Western Publishing under the brands Gold Key and Whitman until the final issue (#171) in 1984.
This series is currently being reprinted by IDW Publishing under the brand Yoe Comics, which began in 2012. IDW also ran another series titled Popeye from 2012 to 2013, as well as a Mars Attacks Popeye in 2013.
Publications
| Title | Publisher(s) | Issue Numbers | Publication Dates |
| --- | --- | --- | --- |
| Thimble Theatre Starring Popeye | Sonnet | #1 - #2 | 1931 - 1932 |
| Popeye Paint Book | McLaughlin Bros. | N/A | 1932 |
| Popeye Cartoon Book | Saalfield | #2095 | 1934 |
| Popeye | David McKay | #1 - #2 | 1935 |
| King Comics | David McKay | #1 - #155 | 1936 - 1949 |
| King Comics | Best Books | #156 - #159 | 1950 - 1952 |
| Popeye/Popeye and Wimpy | Four Color | N/A | 1942 - 1949 |
| Popeye/Popeye the Sailor | Dell, Western, King Features, Charlton | #1 - #177 | 1948 - 1984 |
| Popeye | Saalfield | #9212 | 1969 |
| Popeye [Bold Detergent Giveaway] | Charlton | N/A | 1969 |
| Thimble Theater Starring Popeye the Sailor | Nostalgia Press | N/A | 1971 |
| Popeye | King Features | #E1 - #E15 | 1972 - 1972 |
| Popeye [Giant Comic Album] | Modern | N/A | 1972 |
| Popeye | King Features | #L2 | 1974 |
| Popeye "Getting Better Grades" | King Features | N/A | 1974 |
| Popeye | King Features | Add | 1975 |
| Popeye Kite Fun Book | Western | N/A | 1977 |
| Thimble Theatre, Introducing Popeye | Hyperion Press | N/A | 1977 |
| Thimble Theatre, Introducing Popeye | Hyperion Press | N/A | 1977 |
| Popeye The First Fifty Years | Workman | N/A | May 1979 |
| Popeye the Sailor | Nostalgia Press | N/A | 1979 |
| Thimble Theatre Starring Popeye | Tempo Books | N/A | 1979 - 1980 |
| Popeye and the Jeep | Tony Raiola | N/A | 1982 |
| Prophetic Allegory: Popeye and the American Dream: Two Classics by E. C. Segar | American Life Foundation and Study Institute | Paper Back | 1983 |
| Thimble Theatre, Starring Popeye | Berkley Books | Gallery | Feb 1984 |
| The Complete E.C. Segar Popeye | Fantagraphics | N/A | 1984 - Nov 1990 |
| The Complete E.C. Segar Popeye (Collection of Daily and Sunday Strips) | Fantagraphics | N/A | 1984 - 1990 |
| Popeye Special | Ocean Comics | #1 - #2 | Summer 1987 - Sep 1988 |
| Mondo Popeye | St. Martin's | N/A | 1989 |
| Popeye Summer Special | Harvey | #1 | Oct 1993 |
| Popeye | Harvey | #1 - #7 | Nov 1993 - Aug 1994 |
| The Wedding of Popeye and Olive | Ocean Comics | #1 | 1999 |
| Popeye [E.C. Segar's Popeye] (Collection of Daily Strips) | Fantagraphics | #1 - #6 | Sep 2006 - Feb 2012 |
| E. C. Segar's Popeye: Plunder Island | Fantagraphics | N/A | 2008 |
| Popeye Halloween Mini-Comic | Fantagraphics | #1 | 2009 |
| Popeye: The Great Comic Book Tales by Bud Sagendorf | IDW | N/A | Feb 2011 |
| Popeye Classics | IDW | #1 - ? | Aug 2012 - Present |
| Popeye | IDW | #1 - #12 | Apr 2012 - Apr 2013 |
| Popeye | IDW | #1 - #3 | Dec 2012 - Jul 2013 |
| Mars Attacks Popeye | IDW | N/A | Jan 2013 |
| Classic Popeye | IDW | N/A | Feb 2013 |
| Popeye Classics | IDW | #1 - ? | Feb 2013 - Present |
| Thimble Theatre Presents Popeye | IDW | #1 | Mar 2014 |
Last Updated: 10/27/2018