This article is about the television episode. For the theatrical short, see Popeye and the Pirates.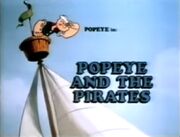 "Popeye and the Pirates" is an episode from The All-New Popeye Hour's "Popeye" segment for Hanna-Barbera Productions in association with King Features Syndicate. It first aired on December 9, 1978 and was directed by George Gordon, Carl Urbano and Rudy Zamora. Popeye was voiced by Jack Mercer, Princess Olive was voiced by Marilyn Schreffler, Wimpy was voiced by Daws Butler and Blutobeard the Pirate was voiced by Allan Melvin.
Plot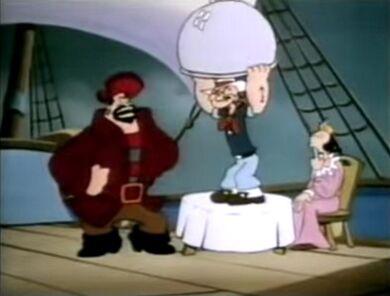 Popeye and Princess Olive are out on the high seas with Wimpy at the helm. They spot a pirate ship hiding in an unnatural fog by a graveyard of ships. The pirate ship turns out to be that of the dreaded Blutobeard the Pirate. Popeye and Olive and are taken prisoners by Blutobeard and his salty and very crusty crew of four. Blutobeard explains that he wants to exchange Olive for a ransom and he slaps Popeye in irons and throws him in the brig. Popeye manages to free himself thanks to the help of a can of spinach. He defeats the pirates and rescues Olive. Meanwhile, Wimpy does what he does best ... eat hamburgers.
Episode details
This segment was from episode 14 in the series, aired in season 1, episode 14 of The All-New Popeye Hour. Below is a list of the other segments for this episode.
| Segment | Title | Seg # |
| --- | --- | --- |
| Popeye | "Here Stew You" | 14A |
| Health Tip | (Don't Play With Matches) | 14B |
| The Adventures of Popeye | "Popeye and the Pirates" | 14C |
| Dinky Dog | "Dinky at the Bat" | 14D |
| Health Tip | (Don't Accept Rides From Strangers) | 14E |
| The Adventures of Popeye | "Popeye Goes Hollywood" | 14F |
| Health Tip | (Crossing the Street) | 14G |
External links