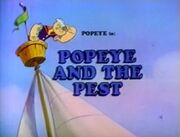 "Popeye and the Pest" is an episode from The All-New Popeye Hour's "Popeye" segment for Hanna-Barbera Productions in association with King Features Syndicate. It first aired on November 25, 1978 and was directed by George Gordon, Carl Urbano and Rudy Zamora. Popeye was voiced by Jack Mercer.
Plot
Popeye goes fishing for some relaxation. While fishing, he is annoyed by a mosquito that will not leave him alone. After a long struggle between the two, Popeye and the mosquito actually become friends.
Episode details
This segment was from episode 12 in the series, aired in season 1, episode 12 of The All-New Popeye Hour. Below is a list of the other segments for this episode.
External links