Not to be confused with Popeye and the Spinach Stalk.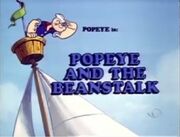 "Popeye and the Beanstalk" is an episode from The All-New Popeye Hour's "Popeye" segment for Hanna-Barbera Productions in association with King Features Syndicate. It first aired on September 16, 1978 and was directed by George Gordon, Carl Urbano and Rudy Zamora. Popeye was voiced by Jack Mercer, Olive Oyl was voiced by Marilyn Schreffler and Wimpy was voiced by Daws Butler.
Plot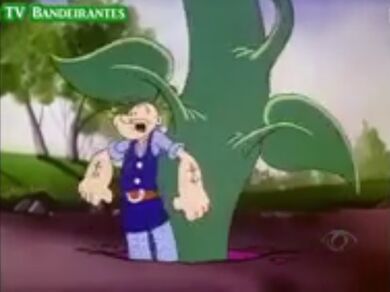 In the latest of several Jack and the Beanstalk parodies, Popeye is walking into town to sell his cow at the market. Along the way, he meets up with Wimpy and sells the cow to him for a bag of beans. Popeye is then run down by a speeding carriage that tramples both him and the beans into the road. The beans take root and a big beanstalk carries Popeye into the clouds.
At the top of the beanstalk, Popeye enters a giant's castle and attempts to rescue Olive who is stuck to a harp. Giant Bluto enters the room then captures Popeye and Olive in a frying pan, but drops them when his magic goose lays another golden egg. After the goose is done Bluto throws Popeye out the window. Popeye then eats some spinach to take down Bluto, rescue Olive and fly away on the goose. Back on the ground Popeye, Olive and Wimpy have all the gold eggs they could ever want.
Episode details
This segment was from episode 2 in the series, aired in season 1, episode 2 of The All-New Popeye Hour. Below is a list of the other segments for this episode.
See also
External links