Jurassic World: Dominion Dominates Fandom Wikis - The Loop
Play Sound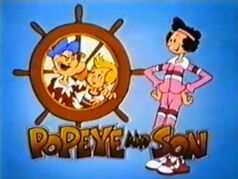 Popeye and Son is a 1987 animated television series produced by Hanna-Barbera Productions and King Features Entertainment, which aired for one season of thirteen episodes on CBS. Maurice LaMarche supplied the voice of Popeye in this series, succeeding Jack Mercer in the role. It is also the first set of Popeye cartoons that were produced since Mercer's death in 1984.
Plot
Popeye and his long-time girlfriend Olive Oyl have married and settled down in the seaside town of Sweethaven, and have a son named Popeye Junior. He has inherited Popeye's ability to gain superhuman strength from eating spinach, however, Junior hates the taste of spinach, much to his father's disappointment. Popeye's rival Bluto has taken a wife of his own, Lizzie, and they also have a son named Tank. Both family comedy and adventure stories could be seen in Popeye and Son.
The series suffered all of the same problems from network Standards & Practices broadcast restrictions that hampered the previous series, and its premise was not as well received, being subsequently ignored in all newer Popeye media.
Episodes
"Attack of the Sea Hag"/"Happy Anniversary"
"The Sea Monster"/"Poopdeck Pappy and the Family Tree"
"Bluto's Wave Pool"/"Here Today, Goon Tomorrow"
"Don't Give Up the Picnic"/"The Lost Treasure of Pirate's Cove"
"Junior's Genie"/"Mighty Olive at the Bat"
"Junior Gets a Job"/"Surf Movie"
"Redbeard"/"The Girl from Down Under"
"Junior's Birthday Roundup"/"Olive's Dinosaur Dilemma"
"Dr. Junior and Mr. Hyde"/"Popeye's Surfin' Adventure"
"Split Decision"/"The Case of the Burger Burglar"
"Orchid You Not"/"Ain't Mythbehavin'"
"There Goes the Neighborhood"/"Olive's Day Off"
"Prince of a Fellow"/"Damsel in Distress"
Voice cast
Additional voices
Susan Blu
Philip L. Clarke
George DiCenzo
Richard Erdman
Ed Gilbert
Rebecca Gilchrist
Scott Grimes
Allan Lurie
Scott Menville
Howard Morris - Genie
Maggie Roswell
Carl Steven
Jeffrey Tambor
Rip Taylor
Frank Welker - Shelley's Father
Patric Zimmerman
External links