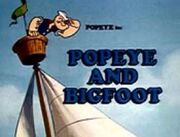 "Popeye and Bigfoot" is an episode from The All-New Popeye Hour's "Popeye" segment for Hanna-Barbera Productions in association with King Features Syndicate. It first aired on November 11, 1978 and was directed by George Gordon, Carl Urbano and Rudy Zamora. Popeye was voiced by Jack Mercer, Olive Oyl was voiced by Marilyn Schreffler and Bluto was voiced by Allan Melvin.
Plot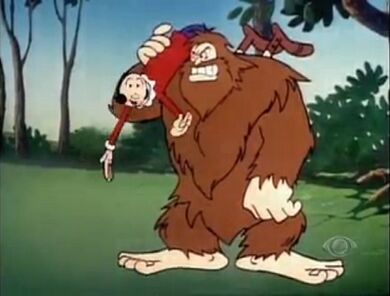 Popeye and Olive are out in the wilderness to do some camping. A sign says the area that they are camping in is inhabited by Bigfoot. Bluto is hiding in the bushes near their camping area. He decides to dress up like Bigfoot and harass them. Popeye and Bluto get into a fight to see who gets to stay with Olive. Bluto gives them a hard time and gets Olive into another life-threatening situation. Popeye must eat his spinach to save her. Bluto finally gets what is coming to him when he is carried off by the real Mrs. Bigfoot.
Episode details
This segment was from episode 10 in the series, aired in season 1, episode 10 of The All-New Popeye Hour. Below is a list of the other segments for this episode.
External links