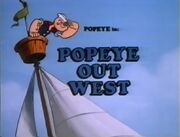 "Popeye Out West" is an episode from The All-New Popeye Hour's "Popeye" segment for Hanna-Barbera Productions in association with King Features Syndicate. It first aired on October 28, 1978 and was directed by George Gordon, Carl Urbano and Rudy Zamora. Popeye was voiced by Jack Mercer, Olive Oyl was voiced by Marilyn Schreffler, Wimpy was voiced by Daws Butler and Bluto was voiced by Allan Melvin.
Plot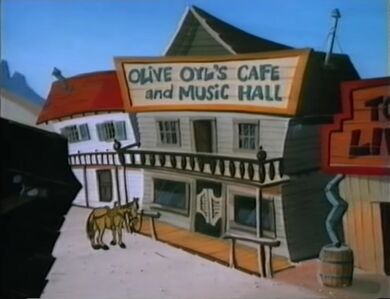 Popeye is the sheriff in an old Western town and Olive is the owner of Olive Oyl's Café and Music Hall. Olive is singing and putting on her show for all of her adoring fans as Wimpy plays the piano. When the Bluto Boys ride into town to raise some havoc, everyone runs to hide.
The Bluto Boys do not like Olive's show and try everything to stop her it. Popeye becomes very angry and challenges them to a showdown at sun-down. They get the drop on Popeye and hogtie him in the street. Popeye frees himself by eating his spinach and rounds them up into the jailhouse.
Episode details
This segment was aired in season 1, episode 8 of The All-New Popeye Hour. Below is a list of the other segments for this episode.
| Segment | Title | Seg # |
| --- | --- | --- |
| Popeye | "Popeye Out West" | 8A |
| Health and Safety Tips | (Don't Play With Matches) | 8B |
| The Adventures of Popeye | "Popeye the Plumber" | 8C |
| Dinky Dog | "Attic Antics" | 8D |
| Health and Safety Tips | (Crossing the Street) | 8E |
| The Adventures of Popeye | "Spinach Fever" | 8F |
| Health and Safety Tips | (Don't Accept Rides From Strangers) | 8G |
External links