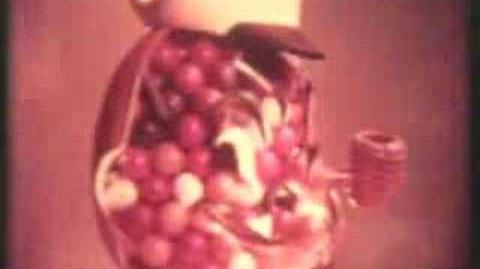 In 1968, veteran toymaker Hasbro made a line of children's toy gumball banks based on popular children's characters, some classic, and some relatively new at the time. These gumball machines featured busts of the character's head with the facial areas left mostly clear (except for eyeballs, eyebrows, mouths and some other characteristics) so that the multi-colored gumballs could be seen through the face, creating a colorful effect. Among these was Popeye The Sailor Man, complete with his pipe.
Product details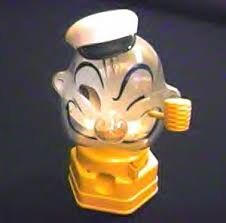 Popeye was one of five or six such characters produced in this line. The facial features seem almost cat-like, but still capture much of Popeye's familiar visage. Happily for future collectors, the pipe was merely ornamental, and not used for churning out the gumballs, this done from the switch a penny was placed into below the head. Like many classic gumball machines, the most damage was done to these toys by leaving gumballs in them, sometimes for many years. In later times, before Hasbro discontinued this line, these same figures were reproduced with the faces colored in, possibly due to the fading of the clear plastic's sheen.
As mentioned above, Popeye shared toy store and retail shelf space with the likes of Bozo The Clown, Fred Flintstone, Mickey Mouse and Scooby Doo, possibly one the first such pieces of merchandise the latter character ever saw. A Yogi Bear was also made, but by Tarco Toys, not Hasbro, and some design differences are evident. In 2012, Hallmark replicated the Mickey gumball in a stylized ornament. Whether Popeye will get this treatment eventually is unknown.
Gallery