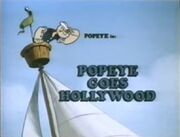 "Popeye Goes Hollywood" is an episode from The All-New Popeye Hour's "Popeye" segment for Hanna-Barbera Productions in association with King Features Syndicate. It first aired on December 9, 1978 and was directed by George Gordon, Carl Urbano and Rudy Zamora. Popeye was voiced by Jack Mercer, Olive Oyl was voiced by Marilyn Schreffler, Wimpy was voiced by Daws Butler and Bluto was voiced by Allan Melvin.
Plot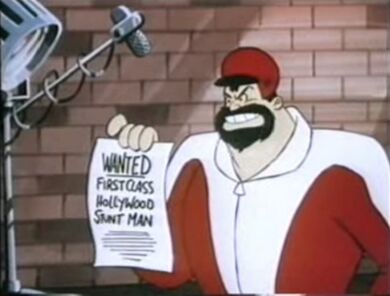 Popeye and Bluto go to an audition at Big Dome Studios for a Hollywood stuntman job. They are looking for a stuntman for a million-dollar movie called "Stunts Galore". The producer decides to let them both try out. During the audition, they fight each other constantly while trying to perform their best. In the end, they find out the producer gives the job to stuntwoman Olive.
Episode details
This segment was from episode 14 in the series, aired in season 1, episode 14 of The All-New Popeye Hour. Below is a list of the other segments for this episode.
| Segment | Title | Seg # |
| --- | --- | --- |
| Popeye | "Here Stew You" | 14A |
| Health Tip | (Don't Play With Matches) | 14B |
| The Adventures of Popeye | "Popeye and the Pirates" | 14C |
| Dinky Dog | "Dinky at the Bat" | 14D |
| Health Tip | (Don't Accept Rides From Strangers) | 14E |
| The Adventures of Popeye | "Popeye Goes Hollywood" | 14F |
| Health Tip | (Crossing the Street) | 14G |
External links