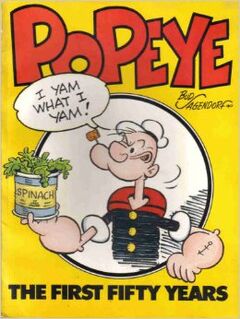 Popeye: The First Fifty Years is a 144-page book by Bud Sagendorf showcasing art and inside information about comics character Popeye, the rest of the Thimble Theatre cast and the strip's history.
First published in 1979, on the fiftieth anniversary of Popeye's first appearance, Sagendorf's book details the experience of working with Popeye comics as their main artist for a period of several decades, and also as an assistant to original creator E. C. Segar in the early years of the strip. Several comic art samples are included in the book as well.
In addition to the classic comics featured, mostly by Sagendorf but also by Segar, Popeye: The First Fifty Years also contains photographs and pieces of artwork created exclusively by Sagendorf for the book.