Popeye: Beach Volley Ball (ポパイのビーチバレーボール) is a volleyball video game starring Popeye released by Technos Japan for Sega's handheld console, the Sega Game Gear, in 1994.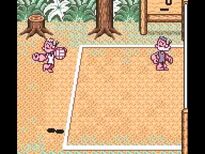 The object of the game is to score seven points while preventing the opponent from doing the same. A partner for Popeye can be chosen between Olive Oyl, J. Wellington Wimpy, Poopdeck Pappy, Swee'Pea, Eugene the Jeep, Dufus and the Sea Hag, although only Olive and Wimpy are selectable from the beginning. The opponent is always Brutus, together with one of the above or with special partners of his own. The playable areas are: Beach, Wharf, Garden, Woods and Castle, plus a final stadium. There are also bonus games between each match that include fishing, weightlifting and a slot machine.
Due to licensing issues, the game was never released outside Japan.
External links