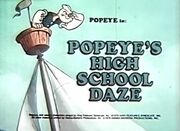 "Popeye's High School Daze" is an episode from The All-New Popeye Hour's "The Adventures of Popeye" in association with King Features Syndicate. It first aired on December 3, 1979 and was directed by Ray Patterson and Carl Urbano. Popeye was voiced by Jack Mercer, Olive was voiced by Marilyn Schreffler, Wimpy was voiced by Daws Butler, and Bluto was voiced by Allan Melvin.
Plot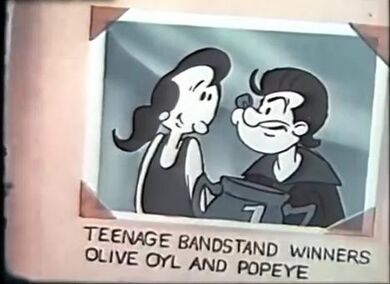 Popeye and Olive are sitting at home reminiscing over their 1957 high school senior yearbook. They both share a day dream that takes them back to Miles High School, and the mischief that Bluto caused back then.
The two boys start toughing it out before school has a chance to start. They plan to settle their argument in a big drag race at Thunder Road. Olive tells them the winner will get to take her to the big dance at the Teenage Bandstand that night.
Popeye cannot lose with his six cylinder spinach-charged hot rod, even with Bluto's cheating. So, that night, the latter attempts to get even with Popeye. Bluto gets the upper had until Wimpy feeds Popeye some spinach-dipped crackers, after which Popeye finishes off Bluto and wins the dance contest with Olive.
Episode details
This segment was aired in season 2, episode 4 of The All-New Popeye Hour. Below is a list of the other segments for this episode.
External links