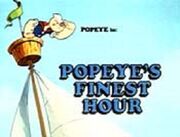 "Popeye's Finest Hour" is an episode from The All-New Popeye Hour's "Popeye" segment for Hanna-Barbera Productions in association with King Features Syndicate. It first aired on November 25, 1978 and was directed by George Gordon, Carl Urbano and Rudy Zamora. Popeye and Poopdeck Pappy were voiced by Jack Mercer, Olive Oyl was voiced by Marilyn Schreffler, Wimpy was voiced by Daws Butler and Bluto was voiced by Allan Melvin.
Plot
Popeye is recalled to the Navy through a computer error. While at Boot Camp, his new nemesis is Bluto's troublemaking nephew. Young Bluto looks just like his uncle. Popeye must put up with the younger Bluto for a while, just like he does with his uncle.
Through it all, Popeye manages to rescue the entire fleet from trouble. As a reward, he is made an honorary admiral. Popeye then finds out that the computer has made a mistake and is ordered back home.
Trivia
This episode explains why Popeye stopped wearing his service sailor uniform: he is now retired from the Navy.
Episode details
This segment was from episode 12 in the series, aired in season 1, episode 12 of The All-New Popeye Hour. Below is a list of the other segments for this episode.
External links