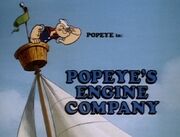 "Popeye's Engine Company" is an episode from The All-New Popeye Hour's "Popeye" segment for Hanna-Barbera Productions in association with King Features Syndicate. It first aired on November 11, 1978 and was directed by George Gordon, Carl Urbano and Rudy Zamora. Popeye was voiced by Jack Mercer, Olive Oyl was voiced by Marilyn Schreffler and Bluto was voiced by Allan Melvin.
Plot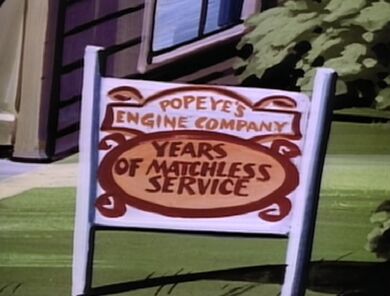 Olive is baking dinner in her oven and lighting the barbecue for her and Popeye in her high-rise apartment building. While she is cooking, she calls her sailor boyfriend to Popeye's Engine Company, where he is playing checkers with his fire dog. While talking to Olive, he sees smoke emanating from her building and rushes off to put it out. Meanwhile, across town at Bluto's Engine Company, Bluto wakes up to the alarm for the same fire.
They both arrive at the building at the same time and compete to see who will put the fire out. They fight for the use of the fire hydrant, but Popeye charges his line first and runs into the building. Before he can climb the stairs, Bluto tugs him and his hose back out. They then fight over the ladder truck and this time Bluto is first. However, Popeye pulls the ladder down so Bluto falls and bounces to the top of the building under construction next to the fire. As Popeye climbs the ladder, Bluto swings out a girder to also trap Popeye at the construction site.
Popeye then uses his pipe as a pungi from the girders and starts controlling his fire hose like a snake charmer. He manages to extinguish Olive's barbecue but she reignites it again. After that, Bluto tries to extinguish Olive's stove with a hose stream also from the top of the construction site. Olive, however, closes the window so the water stream bounces back and knocks Bluto off the beam.
Nothing Popeye does works so he eats his spinach and saves Bluto from falling first. Then he gets a fire extinguisher from his  truck and runs up  to put out the fire. When he gets there, he sees it is Olive's cooking.
Episode details
This segment was from episode 10 in the series, aired in season 1, episode 10 of The All-New Popeye Hour. Below is a list of the other segments for this episode.
External links