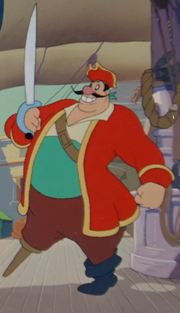 Pierre is a enemy of Popeye, who appears in the Famous Studios cartoons Popeye and the Pirates (1947) and Snow Place Like Home (1948).
While sporting a pointed mustache instead of a beard, Pierre is in many ways similar to Bluto, and 'Pierre Bluto' has also been used. He could be considered one of his alter-egos, being also voiced by Bluto's voice actor of the period, Jackson Beck.
Appearances
Popeye and the Pirates
While sailing, Popeye and Olive come across a mysteriously-appearing, old-fashioned pirate ship. Both are captured, and the pirate captain Pierre attempts to woo the slender lady by sweet-talking her and offering her a whole cargo of stolen jewels. Popeye's attempts to fight for her prove unsuccessful and he is made to walk the plank - but he manages not to fall overboard. When he returns in disguise as an elegantly-dressed woman, Pierre becomes much more attracted to the large-limbed lady and tosses Olive aside. Yet Popeye's ruse is discovered and further struggles end with the sailor hero thrown to the bottom of the ocean, chained, with Olive suffering Pierre's pursuit. A small sawfish helps Popeye by feeding him spinach, so the latter gets back up on deck, defeats Pierre then uses him as a spinning top to beat the other pirates. When Pierre falls in the sea, he turns his peg-leg to a sail and flees in fear.
Snow Place Like Home
Pierre returns, not as a pirate this time (and with both legs), but as the owner of a trading post on the North Pole, in Snow Place Like Home. When a freak storm drops Popeye and Olive on the Pole, he tries everything to get rid of the sailor and seduce Olive, eventually trying to feed him to a whale, but is ultimately defeated after Popeye finds a can of spinach inside the behemoth's belly.

Characters