Not to be confused with Percy.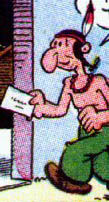 Percy Pink Skin is a character from the comic-book Popeye. He only appears in a few short back-up stories starring Ham Gravy, that see Olive Oyl's former boyfriend relocated to the American West. Percy is Ham's Native American friend and often rival in the art of mooching, which tends to place him in the role of antagonist.
Percy was created by Bud Sagendorf.
External links

Characters