"Olive's Shining Hour" is an episode from The All-New Popeye Hour's "Popeye" segment for Hanna-Barbera Productions in association with King Features Syndicate. It first aired on September 30, 1978 and was directed by George Gordon, Carl Urbano and Rudy Zamora. Popeye was voiced by Jack Mercer, Olive Oyl was voiced by Marilyn Schreffler and Bluto was voiced by Allan Melvin.
Plot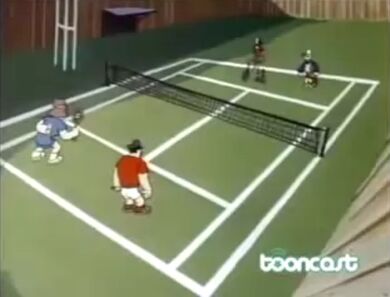 Olive tells Popeye that she has passed her tennis lessons. She has chosen him to play a match of mixed doubles with her that afternoon. Popeye has never played tennis before, but he goes along anyway.
At the game, they find out that their opponents are Bluto and his girlfriend Blutessa, the reigning champions. Bluto pulls out his bag of dirty tricks while trying to win. The first set goes to Bluto and Blutessa. After eating some spinach, however, Popeye leads his team to victory.
Episode details
This segment was aired in season 1, episode 4 of The All-New Popeye Hour. Below is a list of the other segments for this episode.
External links
Community content is available under
CC-BY-SA
unless otherwise noted.