Nurse-Mates is Popeye's 82nd theatrical cartoon, from Fleischer Studios, which was released on June 20, 1940.
Plot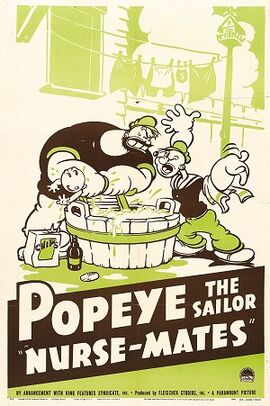 Popeye and
Bluto
scramble to invite
Olive Oyl
to the movies, but first she has to go to the beauty parlor and leaves both men in charge of
Swee'Pea
, who is supposed to take a bath, get dressed and take a nap. Bluto's washing the baby like dirty clothes is stopped by Popeye, but this ends with Swee'Pea getting ink stains that have to be removed - also nearly removing the boy's face too. Bluto's attempts to get him into his gown prove unsuccessful, until Popeye intervenes with a pair of scissors. After sliding down the handrail and into a small fish tank, the baby is finally taken upstairs to sleep, yet ends up falling out the window - but is found to be safely caught in a vine. Both rivals then proceed to punch each other to rock the baby to sleep, but when Olive arrives it is they who are sound asleep in the cradle, being rocked by Swee'Pea.
External links
Community content is available under
CC-BY-SA
unless otherwise noted.