Not to be confused with Mystery Melody.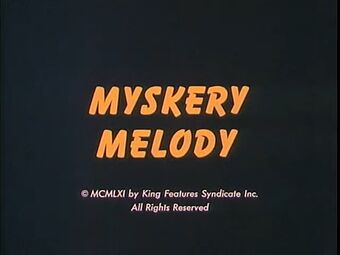 "Myskery Melody" is a 1961 episode of Popeye the Sailor. It is a loose adaptation of the 1936 Thimble Theatre storyline "Mystery Melody".
Plot
While having dinner with Popeye and Olive, Poopdeck Pappy hears a mysterious melody that has to do with something that happened when he was a young sailor: he courted the beautiful "Rose of the Sea", until she showed her true form as the Sea Hag and he left her. Now the witch has found him again after many years and is using her entrancing music to lure him back to her, eventually making him her prisoner in her castle.
With help from Eugene the Jeep, who chases the Hag away, and some spinach that allows him to strike back at the Hag's mighty vulture, Popeye is able to rescue his father from the castle.
Notes
This episode first aired June 3, 1961
Directed by Seymour Kneitel
This is one of 63 episodes produced by Paramount Cartoon Studios for the Popeye the Sailor TV series.
This episode is available from Warner Archive on the Popeye the Sailor The 1960s Classics Volume One DVD set.
Gallery
External links