"Mission Improbable" is an episode from The All-New Popeye Hour's "Private Olive Oyl" segment for Hanna-Barbera Productions in association with King Features Syndicate. It first aired on September 12, 1981 and was directed by George Gordon, Carl Urbano and Rudy Zamora. Sergeant Bertha Blast was voiced by Jo Anne Worley, Private Olive Oyl was voiced by Marilyn Schreffler and Colonel Crumb was voiced by Hal Smith.
Plot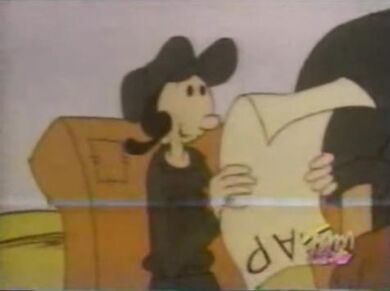 Colonel Crumb sends Sergeant Blast on a secret mission to deliver top-secret missile plans to a general. He orders her to take Privates Oyl and Goon along with her. They bungle the job, and the Colonel arrives to check on their work.
Their foul-ups cause the Sergeant to blow her top. However, as usual, they get credit for saving the day: the plans never got delivered because Olive was reading the map upside-down and they ended up back at Fort Dragg because of her confusion.
The Colonel is overjoyed at this as he had made a mistake with the plans; he gave the Sergeant an envelope with his grocery list instead of the missile plans. If it was delivered to the General, he would have looked like a fool.
Episode details
This segment was from episode 1 in the series, aired in season 1, episode 1 of The Popeye and Olive Comedy Show. Below is a list of the other segments for this episode.
External links