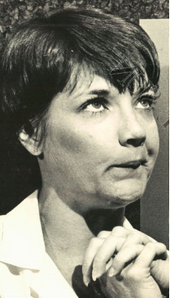 Marilyn Schreffler (June 14, 1945 - January 7, 1988) was an American actress, who provided voice-overs for several animated TV programs, mostly for Hanna-Barbera Productions. She voiced several Popeye characters (most notably Olive Oyl) in the shows The All-New Popeye Hour and Popeye and Son.
Personal Life
Born in Wichita, Kansas, Schreffler had an affinity for cartoons since age six.
Characters voiced by Schreffler
Death 
Schreffler died of liver cancer in Los Angeles County, California on January 7, 1988. 
Trivia
 Mae Questel re-auditioned for the role of Olive Oyl in the 1978 Hanna-Barbera animated series The All-New Popeye Hour, but was turned down in favour of Marilyn Schreffler.
External links