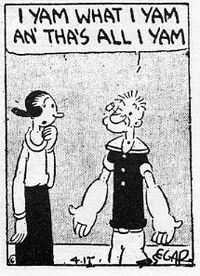 The following is a list of famous catchphrases and sayings by the characters.
"Blow me down!"
"Ahoy"
"I yam what I yam an' tha's all I yam"
"That's all I can stands, 'cause I can't stands no more!"
"I yam disgustipated"
"If we can't be frens we'll be emenies"
"Shiver me timbers!"
"Oh my gorshk!"
"Oh, dear!"
"Help! Popeye!
"I'd gladly pay you Tuesday for a hamburger today"
"I'd like to invite you over to my house for a duck dinner... you bring the ducks!"
"Jones is my name... I'm one of the Jones boys"
"Let's you and him fight!"
"Glop" (before he learned to speak)
"Pooey!"
"Bah!"
"I hate you to pieces!"
Community content is available under
CC-BY-SA
unless otherwise noted.