Jurassic World: Dominion Dominates Fandom Wikis - The Loop
Play Sound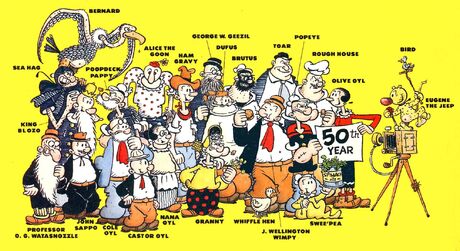 Thimble Theatre was created by King Features Syndicate comic writer/artist E.C. Segar, and was his third published strip. The strip first appeared in the New York Journal, a newspaper operated by King Features owner William Randolph Hearst, on December 19, 1919 before later expanding into more papers. In its early years, Thimble Theatre featured characters acting out various stories and film parodies (hence the strip's name).
Daily strips
Stories created by Segar
1919
Thimble Theatre made its debut on Friday, December 19, 1919. It started out as a gag-a-day strip parodying theatrical films, where every installment started with a cast list, indicating which characters Olive Oyl and Ham Gravy were playing.
1920
The cast list format would be dropped after January 2, 1920 (just 13 strips total) but the gag-a-day format continued. Gradually, it was established that Olive and Ham were longtime, suffering girlfriend-and-boyfriend, in a comically dysfunctional sort of way. Olive's brother Castor Oyl made his debut on January 14, but in this first year he only showed up occasionally. Olive and Castor's parents also made their debut as semi-regular background characters. As early as March of 1920, Segar wrote and drew his first multi-day story.
03/11/1920 - 3/27/1920 (From an island to Mexico)
On March 11, we see Olive, Ham, and Castor on a tropical island talking about how they have just been shipwrecked. The next several days show them still on the island, then on March 16, we see Ham talking about how they managed to get off the island, but are now in Mexico. The next several strips shows what the trio are up to in Mexico. Not much of a story, and after this, the strip goes back to being gag-a-day for the rest of the year.
1921
The gag-a-day format would continue through most of this year, with Castor Oyl remaining a minor player (culminating in a near-complete disappearance early in the year, during which his role was occupied by a series of generic tertiaries with similar character traits). Sometimes, a running gag would last a few days in a row, but always for less than a week, with the following exception:
01/31/1921 - 02/05/1921 (Olive Oyl's pet pig, Venus)
The only time in this period when a running gag managed to last a full week of dailies, from Monday to Saturday.
09/20/1921 - 10/29/1921 (Shipwrecked on an island)
Much like the shipwreck story of the previous year, this one begins with the shipwreck having already happened. Unlike in that previous story, it starts with Olive and Ham on a makeshift raft as they reach a tropical island. The final few instalments show why and how Olive and Ham are able to get off the island and return home, making for a tighter, more cohesive story than the previous year's.
11/14/1921 - 12/12/1921 (Detective Ham Gravy)
1922
For the first seven months of 1922, the strip was strictly gag-a-day. One noticeable change during this period was that Castor Oyl started to become more prominent, showing up nearly every week.
07/31/1922 - 10/10/1922 "Great Gobs of Gold"
10/11/1922 - 10/25/1922 (Ham Gravy, moving picture tycoon)
Ham attempts to direct a film.
11/06/1922 - 11/17/1922 (The cave man)
To affirm his "red-blooded manhood" to Olive (and thus encourage her to accept his marriage proposal), Ham attempts to weather a month in the wilderness with no food, matches or clothing; after reaching the limits of his patience, he purloins Castor Oyl's (overly diminutive) clothing before eventually forsaking his mission.
11/22/1922 - 12/11/1922 (Fake income tax collector)
12/22/1922 - 01/10/1923 (Trip to Palm Springs)
In the "Great Gobs of Gold" storyline, Ham, Olive and Castor travel to Africa and make a fortune finding gold. When they get home, it is promptly taken from them by an "income tax collector". After a couple of unrelated storylines (and a period of gag-a-day strips), it finally dawns on them that income tax does not usually take one's entire fortune like that, and realize the collector was a fraud. They track down the crook and get their money back. They then take a vacation to Palm Springs. Early the following year, they blow their entire fortune on a bad real estate deal that leaves them broke and stranded in Mexico for a while. According to comics strip historian Bill Blackbeard, this type of "[l]ong, complex, suspenseful comic adventure stories" was "equalled at the time for length and complexity only by goings-on in Sidney Smith's daily Gumps strip." (The Gumps was a newspaper comics strip created by Smith that ran from 1917-1959. Blackbeard is saying that The Gumps and Thimble Theatre were the only two newspaper strips of the very early 1920s that used the daily format to tell long, complex, suspenseful narratives, making them pioneers of the type of adventure strips that became popular for the next several decades.)
1923
01/11/1923 - 2/21/1923 (Broke in Mexico)
04/10/1923 - 4/22/1923 (Hamgravy the ballplayer)
06/26/1923 - 08/08/1923 (Lizzie Lucre)
After accidentally saving the unattractive yet fabulously wealthy heiress Lizzie Lucre from drowning while fishing, Castor Oyl gains access to a fortune, a position jeopardized by Ham's competitive golddigging. Eventually, Ham's efforts prove successful, leaving Castor distraught over his (financial) loss. Following several unsuccessful attempts at suicide, Castor alerts Olive to Ham's disloyalty; enraged, Olive apprehends Hamgravy, leading her to, in recognition of her own physical prowess, pursue a career as a fighter.
09/11/1923 - 12/07/1923 (Blizzard the fighting bird)
Castor receives Blizzard, an ostensibly scrawny yet immensely powerful fighting cockerel, in a package from his uncle, and opts to pit Blizzard against a range of successively more monstrous opponents (including an ostrich backed by Ham Gravy) for financial gain.
12/11/1923 - 03/21/1924 (The Pool of Beauty)
Ham Gravy, Olive and Castor travel to the South Seas in pursuit of the mythical Pool of Beauty, alleged to bestow platonic physical attractiveness upon anyone bathing in its waters. After traversing a series of islands, the search proves to be fruitless, save for Ham locating (and bringing back) a "south seas woodpecker", which he believes to be the sole bird with the fighting prowess to defeat Blizzard.
1924
03/22/1924 - 04/16/1924 (The parrot and the gollywater)
04/17/1924 - 07/30/1924 (The trip to British Guiana)
07/31/1924 - 10/11/1924 (Castor's marriage to Lizzie Sally Goozenwoozit)
This marriage (a disaster from the start) is annulled when the thrice-widowed Lizzie's third supposedly-dead husband, Jim Jones, turns up alive. Lizzie then steals Castor's entire fortune he made from British Guiana, now modern day Guyana, by withdrawing it all from and her and Castor's joint bank account and running off with Jim Jones.
10/20/1924 - 11/19/1924 (Hamgravy's hunger strike)
11/24/1924 - 01/09/1925 (Trip to Shiver Creek, Alaska)
Ham Gravy, Olive and Castor visit Alaska; a series of gags ensue based around the severe frigidity of its climate.
1925
01/10/1925 - 03/30/1925 (Battling McGnat)
Inspired by his success with Blizzard, Castor is encouraged to back a gruff, diminutive and unsuccessful yet ambitious prizefighter known as "Battling McGnat", who ultimately falls for Olive Oyl to no avail.
03/31/1925 - 05/20/1925 (Hogan the boxing champ)
Following the failure of the McGnat venture, Castor switches to backing Hogan, a highly effective yet highly unintelligent monolith.
05/21/1925 - 07/01/1925 (Castor Oyl's sideshow)
07/02/1925 - 07/18/1925 (Hamgravy the cop)
07/21/1925 - 09/28/1925 (Heir to the Nasal Islands)
Ham Gravy is tailed with increasing ferocity by a clade of "spies" who eventually reveal themselves to be the royal guard of a set of islands known as "Nasalia" (not to be mistaken for the later Nazilia), of which Ham, as the 13th cousin to the reigning king, is the sole surviving eligible heir. Ham, accompanied by Olive and Castor, travels to the archipelago (occupied by a population all sharing Ham's distinctive nose) only for the king to vanish shortly after their arrival. Thrust into kingship, Ham is saddled with the country's chronic bankruptcy and discordant society, leading him to finally relent and hand the crown to an attempted assassin to prevent his imprisonment at the hands of a mob of revolutionaries.
10/13/1925 - 10/27/1925 (Castor guards the Mint)
10/29/1925 - 01/09/1926 (Castor's intelligence/sanity or lack thereof)
Castor buys real estate from a pair of swindlers that is actually worthless because it is underwater. Castor dumps 5 barrels worth of quinine into the water, bottles it, and is now able to make a tidy profit by selling it as medicinal water. Now that the estate is actually valuable, the two swindlers try to buy it back from Castor, but he refuses to sell no matter how high they raise the price. Finally, one of the swindlers dumps poison in the water. Castor sees this and quickly rushes to the other swindler (who is still unaware of what his partner has done) and agrees to sell the now once-again worthless estate for $10,000. Castor returns home and is hailed as a financial genius. He then promptly blows the $10,000 and his new reputation by giving all the money to another swindler calling himself "Mr. Municipal", who "sells" Castor the town's local municipal bridge. This makes Castor into a laughingstock, and a local committee even decides that anyone that dumb must be crazy and has him committed to an insane asylum. Castor manages to escape the asylum, but is now so despondent over his public humiliation he decides to end his own life. After several comically failed attempts at suicide (due to Castor's clumsiness/cowardice) he finally decides not to do it then feels good about himself for having saved a life (his own).
1926
01/12/1926 - 01/27/1926 (Castor the crook)
01/28/1926 - 04/07/1926 (Olive Oyl's affair with Lambert Lucre)
There is no mentioned relation between Lambert Lucre and the by-now-forgotten Lizzie Lucre (see 1923 above). Just the same general idea of a rich boyfriend/girlfriend.
After one final period of gag-a-day strips, the remaining strips of the 1920s, beginning in late April, are long narratives.
04/22/1926 - 06/05/1926 (The kidnapped, amnesiac young woman)
While hunting in the forest, Ham Gravy discovers a beautiful, amnesiac young woman escaping from a group of kidnappers implicitly holding her ransom due to her father's wealth. The kidnappers ultimately discover and bind the pair, only for Castor to be alerted to their plight and rescue them.
06/07/1926 - 07/14/1926 (Love and jealousy in the air)
Since she has nowhere to go, Nana Oyl invites the amnesiac woman to stay at the Oyl family house. Ham Gravy and Castor, both attributing themselves credit for the as-yet-anonymous woman's discovery and rescue, feud over her affections, which also rouses Olive's jealousy at all the attention the young woman is getting, not least of all Olive's boyfriend.
07/15/1926 - 08/30/1926 (The wedding of Castor and Cylinda Oyl)
Feeling that Olive's jealousy is making her stay at the Oyl home uncomfortable, the amnesiac young woman decides to move out, even though she still has no place to go. Castor tasks himself with sheltering her in a tent, which he vigilantly guards nightly, leading the woman to fall for him. Castor proposes to her and she says yes, and soon after remembers her first name, Cylinda, although she remembers nothing else. This leads to an interruption-filled and scarcely-prepared yet ultimately successful wedding.
08/31/1926 - 10/27/1926 (Castor and Cylinda Oyl find her father)
To support his new wife, Castor is hired as a groundskeeper at the estate of the wealthy, misanthropic I. Caniford Lotts, who recurrently laments over his missing daughter to Castor. Cylinda eventually begins to accompany Castor to work, thus enabling her to coincidentally reunite with her father.
10/28/1926 - 12/08/1926 (The breakup of Castor and Cylinda Oyl)
Upon reuniting with her father, Cylinda's memory returns, leading her to resume her previous persona as the self-professed "spoiled child of a wealthy man". Owing to her abruptly-acquired disgust over Castor's appearance, she rejects his advances and derides him, leading to the functional breakup of their marriage.
12/09/1926 - 01/19/1927 (The reconciliation of Castor and Cylinda Oyl)
Cylinda increasingly recollects her amnesiac period, and thus regains her affections towards Castor, leading the pair (much to Lotts' chagrin) to reunite romantically.
1927
01/20/1927 - 02/11/1927 (Castor's hunger strike)
Lotts, disdainful of Castor's working-class status, permits him and Cylinda to keep house yet refuses to support Castor financially, compelling Castor to protest via hunger strike.
02/12/1927 - 07/11/1927 (Castor's nonparkable gum)
Straining to financially support himself and (as Lotts further withdraws financial support) Cylinda, Castor diligently develops "nonparkable chewing gum", which rapidly evaporates upon being spat out; Castor's venture is initially highly lucrative, yet ultimately ends in ruin when the gum is revealed to self-destruct within the stomachs of its consumers.
07/12/1927 - 10/06/1927 (Mrs. Vera Zippy and Grizzly Bill)
Lotts becomes besotted with Vera Zippy, a significantly younger woman whom Castor believes to be feigning affection for Lotts as a golddigging measure. As her scheme is physically reinforced by the intimidating "Grizzly Bill", the entirety of the police force refuse to aid Castor, leading him to hire the ostensibly-naive mail-order detective Gimlet to investigate the crime.
10/07/1927 - 01/21/1928 (Castor's radio store)
Castor buys a radio store in an attempt to financially support himself and Cylinda, ultimately landing him in the undesirable position of facilitating Lott's hobbyist obsession with the medium. Ultimately, Lotts purchases the store from Castor, leading it to financial ruin under his mismanagement.
1928
01/23/1928 - 03/20/1928 (Castor Oyl, newspaper editor)
Castor shifts tact by purchasing an unsuccessful local newspaper, the headquarters of which are ultimately burnt to the ground.
03/21/1928 - 05/31/1928 (The return of Blizzard)
Amidst the wreckage of his newspaper venture, Castor is reunited with Blizzard, now ageing and potbellied, whom he attempts to re-enter into the cockfighting business to surprisingly successful results. Upon achieving a final comeback, Blizzard is revealed to be the father of a brood under a local farmer, confirming his retirement and prompting him and Castor to part ways for the final time.
06/01/1928 - 09/08/1928 (Broken up, down and out, and crazy)
Upon returning home from his final parting with Blizzard, Castor discovers a Hollywood agent at his home, who desires to sign Cylinda to a film contract due to her photogenic appearance, and urges her to leave her "sap" of a husband. Owing to his outrage over the agent offering him a janitor position in Hollywood, Castor and Cylinda are separated, and Castor, distraught and destitute, seeks refuge in a seedy boarding house plagued by exaggeratedly cramped conditions. After several grinding nights, Castor encounters a ragged and depressed Ham Gravy (marking his first appearance since the previous year), who has descended into the underworld following a breakup with Olive Oyl. Castor attempts to reunite the pair, only for an unmotivated Ham to fail to adhere to social norms and, ultimately, to pursue a woman of ambiguous age mainly for her wealth. In response, Olive ostensibly contracts "lunaphobia" (a form of "angry madness"). Ham's lover ultimately reveals herself to be elderly and having a lover of similar age, compelling Ham to return to Olive, whose condition is rapidly revealed to be an attention-seeking ruse.
09/10/1928 - 06/27/1929 (Dice Island) or (Bernice the Whiffle Hen)
Castor's uncle, Lubry Kent Oyl, gives him Bernice, a rare Whiffle Hen with the ability to escape any form of potential trap or danger, spiralling into a series of kidnapping and deceptions leading Castor, Ham Gravy and Olive to the gambling center Dice Island, as well as their first encounter with a weatherbeaten sailor known as Popeye.
1929
06/28/1929 - 09/07/1929 (Olive's false lover)
09/09/1929 - 09/24/1929 (Popeye's tutor)
09/25/1929 - 10/30/1929 (The Brass-Mine swindle)
10/31/1929 - 05/17/1930 (The Black Barnacle)
Popeye meets the Sea Hag.
1930
05/19/1930 - 07/07/1930 (The haunted house)
07/08/1930 - 12/20/1930 (The Wiltson Mystery)
12/22/1930 - 03/16/1931 (Glint Gore, the outlaw)
1931
03/17/1931 - 04/04/1931 (A one-way bank)
05/05/1931 - 11/21/1931 "The Great Rough-House War"
Popeye becomes involved in the war between Nazilia and Tonsylania.
11/23/1931 - 12/27/1931 "Tragedy in the Land of Saps" or "Popeye Deals a Hand of Fists"
12/28/1931 - 06/11/1932 "Skullyville"
1932
Popeye searches for treasure and meets the fearsome Bluto the Terrible.
11/14/1932 - 03/04/1933 "Long Live the King" or "Gold and Goofs"
1933
03/06/1933 - 07/08/1933 "Popeye, King of Popilania"
Popeye decides to establish and rule his own kingdom, resulting in King Blozo's jealousy.
07/10/1933 - 12/09/1933 "Star Reporter"
12/11/1933 - 01/27/1934 "Popeye in Puddleburg"
Popeye manages The Puddleburg Splash newspaper in the town of Puddleburg.
1934
01/29/1934 - 07/14/1934 "Romance and Riches"
07/16/1934 - 11/03/1934 "Unifruit" or "White Savages"
11/05/1934 - 01/13/1935 "Popeye in Black Valley" or "Human Varmint" or "Vanishing Gold" or "Mountain Mugs" or "Dirty Work on the Hillside"
1935
01/15/1935 - 04/22/1935 "The Sea Hag's Sister" or "The Pool of Youth"
04/22/1935 - 10/19/1935 "Popeye's Ark"
10/21/1935 - 03/14/1936 "You Can't Expect April Showers from War Clouds"
1936
Olive is given the strange animal, Eugene the Jeep, whose mysterious powers are sought by the unscrupulous Mr. Chizzelflint.
Popeye uses Eugene's powers to track down his lost father, Poopdeck Pappy.
11/30/1936 - 12/14/1936 "Civilizing Poppa"

Popeye settles Pappy into city life as Pappy gradually warms up to him.

12/14/1936 - 04/03/1937 "Mystery Melody"
1937
Popeye helps a young woman who has fallen on hard times, even if it means breaking the law.
Poopdeck Pappy goes too far with his antics, getting himself into a big mess of trouble in the process.
12/15/1937 - 03/05/1938 "Valley of the Goons"
Segar became ill and was hospitalized in late 1937. Doc Winner took over as artist and completed this story.
1938
03/07/1938 - 05/21/1938 "Hamburger Sharks and Sea Spinach"
This story was completely drawn by Doc Winner. It contains no art by Segar, as he was still ill and unable to return to the strip.
05/23/1938 - 12/10/1938 "King Swee'Pea"
Popeye and Swee'Pea (and friends) travel to the latter's kingdom which is threatened by demons. Segar returned as writer and artist and started this story in May, however, Tom Sims and Doc Winner would complete it after Segar once again became ill in August. The last daily strip that bore Segar's signature was dated August 27, 1938. He died in October 1938.
Post-Segar stories
1938-1939
Sims and Winner did two complete adventures as a team and began a third, before Winner left in late 1939.
1938
12/12/1938 - 03/25/1939 "Spinach Juice Springs"
1939
03/27/1939 - 08/12/1939 "Homeward Bound"
08/14/1939 - 02/10/1940 "The Rainbird"
1939-1954
Bela Zaboly took over the art duties in December, 1939, and completed "The Rainbird". The Sims/Zaboly team would maintain Segar's practice of developing longer adventures.
1940
02/12/1940 - 04/20/1940 "The Roving Champion"
04/22/1940 - 07/06/1940 "The Roving Champion in the Land of the Jeeps"
07/08/1940 - 09/28/1940 "Seven Sons of the Sea Hag" or "Mother Haggy's Chicks" or "Only Their Mother Could Love Them" or "Ugh"
09/30/1940 - 01/11/1941 "Mystery Mansion"
1941
01/13/1941 - 03/15/1941 "Where There's a Will There's a Relative"
03/17/1941 - 09/02/1941 "Davy Jones and the Sea Goon"
09/03/1941 - 11/22/1941 "Wimpy's Tadpole Tablets"
11/24/1941 - 03/31/1942 "Admiral Popeye"
1942
04/01/1942 - 07/11/1942 "The Seagoosk"
07/13/1942 - 01/02/1943 "The Islands of Sunk Sun"
1943
01/04/1943 - 05/09/1943 "Popeye in Limbo"
05/10/1943 - 07/17/1943 "Oh, Ring Them Bells"
07/19/1943 - 12/11/1943 "Sea-Dust"
12/13/1943 - 02/17/1945 "Popeye in the Navy"
1944
Sims and Zaboly continued to create longer stories for the rest of their run on Thimble Theatre, but did not give every story an individual title.
1945
02/19/1945 - 04/21/1945 (war against spinach) or (jitterbug coast-to-coast)
04/23/1945 - 05/26/1945 (the strongest beard in the world) or (Sampson and Delovely) or (the spy who loved me beard)
05/28/1945 - 06/30/1945 (Popeye opens Galosh College)
07/02/1945 - 08/10/1946 "Popeye on Paradise Peak"
1946
08/12/1946 - 11/19/1946 "The Island of Laughing Waters"
11/19/1946 - 01/04/1947 "A Two Million Dollar Comedy"
1947
01/06/1947 - 04/19/1947 "Wimpy and the Whaleburgers"
04/21/1947 - 11/15/1947 "Popeye and the Evil Echo"
11/17/1947 - 01/24/1948 "The Upping Atom"
1948
01/26/1948 - 04/24/1948 "Tears from Blue Skies" or "Popeye and Pluvious"
04/26/1948 - 06/21/1948 "Miss Juice of 1948"
06/22/1948 - 08/14/1948 "The Iceman from Iceland"
08/16/1948 - 12/04/1948 "Hooray for Ourside, You!!" or "If They Want Rooster, Why Take the Pig Out of the Pigskin??"
12/06/1948 - 04/02/1949 "Boogerman"
1949
04/04/1949 - 12/03/1949 "The Lost Bomb Islands"
12/05/1949 - 02/11/1950 "The Will of the Wimpy"
1950
02/13/1950 - 03/04/1950 "The Goat-Headed Frogmen"
03/06/1950 - 06/03/1950 "The Big Fight of the Century"
06/05/1950 - 06/24/1950 "Loopy vs. Clemmy"
06/26/1950 - 08/19/1950 "Mary Lou of H-Burger Ranch"
08/21/1950 - 11/25/1950 (The Cheerful Earful Club)
11/27/1950 - 04/07/1951 "Truth Is Stranger"
1951
04/09/1951 - 06/30/1951 "A Great Mystery"
07/02/1951 - 09/06/1951 "The Fresh-Water Denizen"
09/07/1951 - 12/15/1951 "Square Egg Island"
12/17/1951 - 02/09/1952 "No Stone Unturned"
1952
02/11/1952 - 08/17/1952 "Look Out, Lummox!!" or "Who Slew Hillary Hee??"
08/19/1952 - 12/12/1952 "There's a Hole in the Bottom!!"
1953
01/02/1953 - 05/09/1953 "Pturkey Island"
05/11/1953 - 06/20/1953 "Napple or Yapple"
09/07/1953 - 12/28/1953 "Uss vs. Themm & Thees & Thoos"
12/28/1953 - 02/22/1954 "Pails of Pearls"
1954
02/23/1954 - 06/07/1954 "Let Us Look to Lettuce"
06/08/1954 - 07/17/1954 "Popeye's Carnival"
07/19/1954 - 08/28/1954 "Wimpy's Walking Handbags"
08/30/1954 - 10/29/1954 (King Bee and Queen Bee)
11/01/1954 - 12/04/1954 (WEE vs. I.O.U.)
1954-1959
In November 1954, Ralph Stein took over the writing duties on the dailies while Bela Zaboly remained as the artist. In December of the same year, Stein had Popeye meet explorer Sir Pomeroy and, for the rest of the Stein/Zaboly run, the sailor would travel with the Englishman, having adventures around the world and in outer space. Most stories from this era did not have individual titles.
1955
12/06/1954 - 02/22/1955 (The Abdominal Snowman)
02/23/1955 - 04/16/1955 "Olive Oyl's Dilemma"
04/18/1955 - 07/16/1955 "Private Life of a Privateer!"
07/18/1955 - 08/13/1955 (Uranium Huntr) or (The Living Geiger Counter)
08/15/1955 - 10/08/1955 (Dopy Nick) or (The Pink Whale)
10/10/1955 - 12/03/1955 (The Fish God of Gugattoo Island)
12/05/1955 - 02/04/1956 (Pappy to the Rescue!)
1956
02/06/1956 - 06/02/1956 (Deucedly Odd Goings-On!)
06/04/1956 - 07/21/1956 (T-Bone Steak Trees) or (Steakiflora Hannibalus Carny What?)
07/23/1956 - 10/06/1965 (Opperation: Aissuria!)
10/08/1956 - 11/24/1956 (Loch Mess, Clotland) or (Messy Bussiness in the Loch)
11/26/1956 - 02/09/1957 (The Slippisippi Riverboat Race)
1957
11/26/1956 - 02/09/1957 (The Slippisippi Riverboat Race)
02/11/1957 - 03/30/1957 (Grand Poo Bahr of Smoochistan)
04/01/1957 - 06/01/1957 (More Private Lives of a Privateer!)
06/04/1957 - 08/10/1957 (The Lost Prince of Effluvia)
08/12/1957 - 09/28/1957 (Irma th' 'Ermit's Youth Lotion!)
09/30/1957 - 11/23/1957 (A Viper called le 'Burgoo!)
11/25/1957 - 02/08/1958 (Popeycatapetl!) or (Th' Demon Idol O' Inkypoo!)
1958
02/10/1958 - 04/12/1958 (Steam Rocket to Infinity!)
04/14/1958 - 06/07/1958 (Wreck o' th' Pegaso D'Oro) or (The Ispano-Squweezer)
06/09/1958 - 08/09/1958 (The Great Trans-Polar Balloon Race)
08/11/1958 - 10/25/1958 (A Man in a Moon)
1959
10/27/1958 - 01/03/1959 (Dragon or Overgrown Lizard?)
01/05/1959 - 04/17/1959 (The Moon Glooph)
04/19/1959 - 08/08/1959 (Nonny the Equine Genius)
1959-1986
Bud Sagendorf took over as writer and artist in 1959. He started with shorter continuities and standalone strips, then later wrote longer adventures.
1959
08/10/1959 - 12/26/1959 (Pappy the beatnik)
12/28/1959 - 07/16/1960 (Moon Plant)
1960
07/18/1960 - 11/12/1960 (Spinach famine) or (Muscle bound jay birds) or (Spinachovia vs. Creamatonia)
11/14/1960 - 02/04/1961 (The parrot with the gold doubloons)
1961
02/06/1961 - 05/27/1961 (Cactus Olive) or (The Tarantula Flats Ladies' Guild)
05/29/1961 - 09/09/1961 "Me Pappy is Engaged to a Beask"
09/11/1961 - 01/06/1962 (The ol' family homestead)
1962
01/08/1962 - 04/21/1962 (Evil spells vs nasty tricks)
04/23/1962 - 07/14/1962 "Hi, Earthman!" or "Look What We Found!"
07/16/1962 - 09/29/1962 "Too Much Oyl!" or "One Olive is Enough!"
10/01/1962 - 11/20/1962 (Granny won't act her age)
10/22/1962 - 11/10/1962 (Society Against Pugilism)
11/12/1962 - 02/02/1963 "The Door to Nowhere" or " Knock! Knock!" or "Who's There"
1963
02/04/1963 - 03/16/1963 "Target" or "Thanks for the Rocket, Buster"
03/17/1963 - 04/20/1963 (Birdseed adopts Swee'Pea)
04/22/1963 - 07/27/1963 "The Mad Computer" or "The Tin Can Utopia!"
07/29/1963 - 11/19/1963 "Don't Trust Spies!" or "Dames is Worse than Men Spies!" or "Beauty is Jus' Skin Covering fer No-Good Spies!"
11/19/1963 - 06/27/1964 "Popeye Meets the Folk Singer" or "Fickle is Olive's Love"
1964
06/29/1964 - 12/19/1964 (Cousin Smash comes to visit)
12/21/1964 - 05/08/1965 (The world's smallest giant)
1965
05/10/1965 - 06/19/1965 (Everyone wants Pappy to retire)
06/21/1965 - 07/03/1965 (The Jellybean King)
07/05/1965 - 11/27/1965 "Mars Mania!"
11/29/1965 - 03/05/1966 (Two private witches) or (Long lost sisters)
1966
03/07/1966 - 03/19/1966 Individual daily strips
03/21/1966 - 06/18/1966 "Miskery Guest!"
06/20/1966 - 07/09/1966 "The Case of the Missing Moocher"
07/11/1966 - 08/12/1966 "Draft Call!"
08/14/1966 - 11/22/1966 "The Grumper Invasion"
11/23/1966 - 12/24/1966 Individual daily strips
12/26/1966 - 03/25/1967 (The Jelly Bean King)
1967
03/27/1967 - 04/01/1967 (Brutus challenges Popeye to a fight without spinach)
04/03/1967 - 05/13/1967 "Fight" or "Can a Non-Spinach-Eating Shrimp of a Sailor Defeat a Three-Hundred-Pound Brute Who Won't Fight Fair?"
05/15/1967 - 07/22/1967 "Royal Present" or "Can a Kingly Gift Bring Happiness into the Drab Life of a Sailor Man?"
07/24/1967 - 09/16/1967 "The Hero!"
09/18/1967 - 02/17/1968 "Popalania!"
1968
02/19/1968 - 03/16/1968 (Popeye disappears)
03/18/1968 - 08/24/1968 "The Popeye Story!" or "The Man Who Licked Popeye!!"
08/26/1968 - 02/15/1969 "Witch is Witch?" or "Can a Sweet Girl Become an Evil Witch And Stay Lovable?"
02/17/1969 - 05/31/1969 "Sailor for Hire!"
06/02/1969 - 09/27/1969 "Sauce for the Gander"
09/29/1969 - 12/06/1969 "The Purple Pearl"
12/08/1969 - 05/23/1970 "Who Am I?"
1970
05/25/1970 - 10/10/1970 "Moon Eggs!"
10/12/1970 - 01/16/1971 "Heiress!"
1971
01/18/1971 - 04/10/1971 "Patcheye the Pirate!"
04/12/1971 - 07/03/1971 "EMOK"
07/05/1971 - 09/04/1971 "Fatbrain!"
09/06/1971 - 12/11/1971 "The Bride!"
12/13/1971 - 02/12/1972 "Ghosk Town!"
1972
02/14/1972 - 04/29/1972 "The Return of Eugene the Jeep!" or "Safety is the Arms of a Sailor!"
05/01/1972 - 06/17/1972 "The Doomsday Doll!"
06/19/1972 - 09/30/1972 "The 5:05"
10/02/1972 - 11/18/1972 "Power Boy!"
11/20/1972 - 03/17/1973 "Goon Valley!"
1973
03/19/1973 - 06/02/1973 "Yuck!"
06/04/1973 - 08/25/1973 "Battle Royal!"
08/27/1973 - 11/03/1973 "Western Woo!"
11/05/1973 - 04/20/1974 "The Mysterious Voyage" or "Sailing the Eighth Sea!"
1974
04/22/1974 - 07/27/1974 "Pappy Work!"
07/29/1974 - 10/12/1974 "A King is a King, is a King, is a King..."
10/14/1974 - 03-15-1975 "Spincoal!"
1975
03/17/1975 - 06/21/1975 "Spook Ship" or "Can a Live Sailor Navigate with a Cargo of Ghosks?"
06/23/1975 - 09/13/1975 "The Artist!"
09/15/1975 - 11/09/1975 "Husband Contest!"
11/10/1975 - 01/24/1976 "The Return of the Grumpers!"
1976
01/26/1976 - 06/05/1976 "The Thing Next Door!"
06/07/1976 - 09/18/1976 "Lady Presidink!"
09/20/1976 - 11/13/1976 "Too Many Pots Spoil the Cook!"
11/15/1976 - 01/08/1977 "The Twist! Terror Strikes the Waterfront!" or "Life Takes a New Twist in Sailor Town!"
1977
01/10/1977 - 04/31/1977 "The Beast!"
05/02/1977 - 07/09/1977 "Water-Front Moll!"
07/11/1977 - 09/10/1977 "Fresh Fish!"
09/12/1977 - 11/19/1977 "I Spy"
11/21/1977 - 03/18/1978 "The Prince and the Skinny Dame!"
1978
03/20/1978 - 05/13/1978 "Ripe Tomato!"
05/15/1978 - 07/22/1978 "The Others" or "A Weird Meeting of the Unascertained"
07/24/1978 - 10/28/1978 "Li'l Lady Lorst!"
10/30/1978 - 01/13/1979 "Computer Fisks!" or "Popeye Meets the Electronic Age!"
1979
01/15/1979 - 05/19/1979 "Ghosk Ship!"
05/21/1979 - 07/07/1979 "Dames!"
07/09/1979 - 09/15/1979 "Big Nose!"
09/17/1979 - 01/05/1979 "The Brass Crown!"
1980
01/07/1980 - 02/23/1980 "Names?"
02/25/1980 - 05/31/1980 "Viper Velma!"
06/02/1980 - 07/12/1980 "Career!"
07/14/1980 - 09/27/1980 "Fatso!"
09/29/1980 - 12/06/1980 "Return of the Grumpers!"
12/08/1980 - 01/24/1981 "The Arful Infink!"
1981
01/26/1981 - 05/02/1981 "Lights! Camera! Action!!"
05/04/1981 - 07/25/1981 "Blozo the Gone!"
07/27/1981 - 10/31/1981 "Back-Room Pest!"
11/02/1981 - 01/23/1982 "Science vs. Sorcery!"
1982
1983
01/10/1983 - 03/26/1983 "Show-Down!"
03/28/1983 - 04/09/1983 Individual daily strips
04/11/1983 - 05/14/1983 "Two of a Kind!" or "One Wimpy is Too Much!"
05/16/1983 - 07/23/1983 "The Half of It" or "Fifty Percent Is Better Than Nothing!"
07/25/1983 - 09/03/1983 "Get Lorst" or "All Pests Aren't in the Garden"
09/05/1983 - 10/29/1983 "Pappy's Secret!"
10/31/1983 - 01/07/1984 "Head Power!"
1984
01/09/1984 - 03/17/1984 "Home!"
03/19/1984 - 05/19/1984 "Royal Spook!"
05/21/1984 - 06/09/1984 (Waterfront Olympics!)
06/11/1984 - 07/28/1984 "The Big Loss!"
07/30/1984 - 08/11/1984 (Salty returns)
08/13/1984 - 09/22/1984 "Who?"
09/24/1984 - 09/29/1984 Individual daily strips
10/01/1984 - 01/19/1985 "Time Off!"
1985
01/21/1985 - 02/23/1985 "The Block!"
02/25/1985 - 05/25/1985 "Gone and Forgotten!"
05/27/1985 - 07/13/1985 "Crisis on Jeep Island!"
07/15/1985 - 08/31/1985 "Hi-Tec Trauma!"
09/02/1985 - 10/26/1985 "Olive's Joint!"
10/28/1985 - 12/14/1985 "The Evil Plot!"
12/16/1985 - 01/25/1986 "Who?"
1986
01/27/1986 - 02/01/1986 "The Loving Pet!"
02/03/1986 - 02/22/1986 "The Return!"
1986-1992
Bobby London took over as creator of the daily strip in February, 1986. He initially wrote standalone strips and strips with related gags that lasted up to a few weeks. London started creating longer stories in mid-1987.
1986
02/24/1986 - 09/14/1986 Individual daily strips
09/15/1986 - 10/11/1986 (Olive's younger boyfriend)
11/10/1986 - 12/15/1986 (Long sea voyage)
12/17/1986 - 12/29/1986 (A Christmas story)
1987
01/13/1987 - 01/23/1987 (Popeye and Castor go fishing)
06/29/1987 - 10/03/1987 "Sea Hag City"
10/26/1987 - 02/27/1988 "Relish of the Gods"
1988
02/29/1988 - 05/28/1988 "Popeye's Main Event"
05/30/1988 - 10/08/1988 "The Days and Nights of Olive Oyl"
10/10/1988 - 10/22/1988 "Wimpy and Son"
10/24/1988 - 04/22/1989 "The Smog"
1989
04/26/1989 - 11/25/1989 "Heavy Metal Toar"
11/27/1989 - 06/23/1990 "Mad Avenue"
1990
06/25/1990 - 05/11/1991 "Popeye's Apocalypse"
1991
05/13/1991 - 02/01/1992 "The Return of Bluto"
1992
02/05/1992 - 06/20/1992 "Stupid Little Hat!"
06/22/1992 - ??/??/???? "Witch Hunt"
Due to the controversial nature of this story, Bobby London was fired from Popeye in July, 1992, and King Features Syndicate recalled several weeks of strips from syndication. London, however, did complete "Witch Hunt", which eventually saw publication in the book "Popeye: The Classic Newspaper Comics by Bobby London, Volume Two" in 2014.
1992-present
After Bobby London was fired, King Features ran reprints of earlier London strips for a short time. Rather than seeking an artist to replace London, King Features then ran reprints of the Bud Sagendorf era of the strip, a practice which continues to this day.
Sunday strips
Sundays serialized their own stories in parallel to the daily strip, and also alternated these storylines with standalone gags.
1925-1928
Segar's Sunday pages began as a series of unrelated multi-panel gag strips. While he eventually drew stories or related gags spanning several weeks, the longer adventures did not start until 1928.
1926
10/24/1926 - 10/31/1926 (The mechanical woman)
1927
02/20/1927 - 03/06/1927 (Cylinda the bum cook)
07/24/1927 - 07/31/1927 (Ham Gravy the dentist)
08/14/1927 - 08/21/1927 (Castor's murder show)
12/11/1927 - 12/18/1927 (Castor's pet elephant)
1928
01/15/1928 - 01/29/1928 (The mean neighbor)
1928-1930
03/04/1928 - 03/02/1930 "The Great American Desert Saga"
Castor Oyl and Ham Gravy travel to the American West to seek their fortune. This story lasts from March 1928 to March 1930. Popeye would not debut until January 1929, and he does not appear in this story until the very last strip on 03/02/1930, when Castor and Ham decide to head home to Castor's sister and Ham's girlfriend, Olive Oyl, only to discover she is now dating Popeye.
1930
03/09/1930 - 03/30/1930 (Popeye's first courtship of Olive Oyl)
In the opening strip, Ham Gravy fights Popeye over Olive. In the next one, Ham is described as being "out of town", and Popeye's courtship continues without him. Two Sunday strips later, Olive breaks up with Popeye.
04/06/1930 - 07/06/1930 (Popeye, prize-fighter)
07/20/1930 - 08/03/1930 (Popeye's second courtship of Olive Oyl)
The 07/13/1930 strip is unrelated to anything before and after and is just of Popeye and Castor fishing. On 07/20, Popeye fights a rival for Olive's affections, a one-shot character, with no mention of Ham Gravy. This suggests that Ham (who made his last appearance in the Sunday strips on May 11 and in the dailies on May 12) is already ancient history to both Olive Oyl and the strip itself.
08/10/1930 - 08/17/1930 (Joe Barnacle)
08/24/1930 - 08/31/1930 (Popeye's dreams)
09/07/1930 - 11/02/1930 (Popeye, Olive, and Popeye's rivals)
11/09/1930 - 01/18/1931 (Popeye, prize-fighter again)
1931
01/25/1931 - 02/15/1931 "Popeye, the S'Prise Fighter"
03/15/1931 - 06/07/1931 (Popeye fights against Tinearo)
Notable for being the earliest arc to feature a prototypical version of Wimpy (debuting on May 3), who does not coalesce into his most well-known appearance and mannerisms until mid-1932, although he would be named "Mister Wimpy" as early as the May 24 strip. Rough-House and his cafe debut in the same strip that names Wimpy.
06/14/1931 - 06/21/1931 (The Rough-House Cafe)
06/28/1931 - 08/09/1931 (Popeye fights against a gorilla)
Popeye is chosen to resolve the matter of who would win in a fight, a gorilla or the strongest man.
09/20/1931 - 11/29/1931 "The Johnny Brawn Fight"
12/13/1931 -02/21/1932 (The Battle Royal)
1932
04/24/1932 - 05/01/1932 (Popeye fights against a robot)
05/29/1932 - 07/24/1932 "Orphan Mary Ann"
Popeye and Wimpy take care of a young orphan girl, Mary Ann.
10/30/1932 - 11/06/1932 (The Rough-House Cafe's fly problem)
11/13/1932 - 11/20/1932 (Bobby vs. Puggy)
1933
01/15/1933 - 02/05/1933 (Wimpy vs. Rough-House)
02/12/1933 - 03/05/1933 "Wimpy's Mother"
03/19/1933 - 03/26/1933 (Wimpy's disguise)
04/16/1933 - 04/23/1933 (Rough-house's nervous breakdown)
04/30/1933 - 05/07/1933 (Wimpy's violin)
05/14/1933 - 05/28/1933 (Mr. Soppy and Prince Wellington)
06/11/1933 - 07/16/1933 "Popeye Fights Bullo Oxheart"
07/30/1933 - 08/13/1933 (The Rough-House Cafe's new waitress)
09/03/1933 - 09/10/1933 (Boxing vs. Wrestling)
10/08/1933 - 11/26/1933 "Popeye's Restaurant"
12/03/1933 - 08/12/1934 "Plunder Island"
Popeye meets the Sea Hag's minion, Alice the Goon.
1934
08/19/1934 - 09/23/1934 (Kid Nitro)
1935
"Goldrush to Slither Creek"
(Wimpy's restaurant)
1936
Alice helps Swee'Pea and Popeye.
Wimpy challenges George W. Geezil to a duel.
"Popeye Fights Kid Mustard"
1937
"Swee'Pea and the Jar of Jam"
"Poopdeck and the Civilized Society"
"Popeye's Underwear - Putter - Oner"
"Wimpy's Sweetheart, Waneeta"
"Swee'Pea's Mother: Taking the Baby Home"
"Lumberjack Love"
1938
"Popeye and the Man from Mars"
Popeye must fight the Martians' champion.
Poopdeck Pappy passes himself as Popeye in order to trick Olive.
Other strips
1933
09/04/1933 - 09/16/1933 "Popeye at the World's Fair"
An extra storyline produced by Segar in addition to his daily and Sunday continuities. Popeye and Wimpy attempt to go to the Chicago World's Fair without taking Olive, but she follows them.
External links