This article is about the character. For the comic series, see Sappo.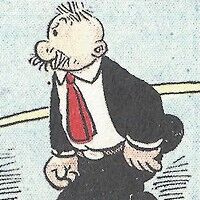 John Sappo is the eponymous protagonist of E. C. Segar's comic strip Sappo (Originally The Five-Fifteen), which was the "topper", or complementary strip, to Segar's Thimble Theatre.
John Sappo is an everyman whose misadventures in everyday life (such as trying to catch the 5:15 train home) dominated the series at first, however, after he took in a tenant known as Professor O. G. Wotasnozzle, his antics began to involve the Professor's daring inventions and experiments. Although usually annoyed by the Professor's schemes, Sappo would at times find himself going along, tempted by the prospect of riches and success, only to end up facing catastrophe.
Gallery
External links

Characters