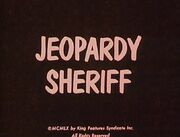 "Jeopardy Sheriff" is a 1960 episode of Popeye the Sailor.
Plot
Poopdeck Pappy is entertaining Swee'Pea with tales about when he was the most fearless Western sheriff of them all. Popeye chides his father for telling whoppers to a baby, and Poopdeck says he will prove that what he says is true. The old sailor gets into a series of scrapes from which Popeye repeatedly rescues him, until one time when Popeye is overcome. Poopedeck goes after some bank robbers, and after eating a can of his son's spinach, he manages to come to the latter's rescue and capture the gang. Back home, Poopdeck is telling stories to Swee'Pea again, and Popeye is also an avid listener.
Trivia
This episode first aired September 17, 1960
Directed by Tom McDonald
This is one of 10 episodes produced by Gerald Ray Studios for the Popeye The Sailor TV series.
This episode is available from Warner Archive on the Popeye the Sailor The 1960s Classics Volume One DVD set.
External links