Jurassic World: Dominion Dominates Fandom Wikis - The Loop
Play Sound
Not to be confused with the comic story Ham.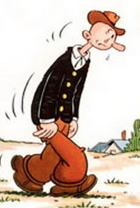 Ham Gravy, also known as Harold Hamgravy or Three Gun Gravy (in the West), is a Thimble Theatre character created by E. C. Segar. Ham debuted in the first Thimble Theatre strip, dated December 19, 1919.
Ham Gravy was the childhood sweetheart and original fiancee of the better-known Olive Oyl, but was often attracted to other women, if they were sufficiently wealthy. Ham was depicted as a "bum" or slacker who preferred getting rich quick rather than earning money honestly, thus continually rendering him broke (often to the dismay of Olive, who recurrently lamented his "cheapness"). Due to his lethargy and oft-shameless gold digging, Ham mantained volatile dynamics with fellow 1920s protagonists Olive and her brother Castor Oyl; the comically dysfunctional nature of his romantic relationship with Olive served as the focal point of the strip's earliest years, while his relationship with the more ambitious yet similarly short-sighted Castor alternated between adversarial and a close friendship. Ham was also infamous for the abnormal size of his nose, which frequently acted as a target for other characters' mockery.
Role in Thimble Theatre

The initial protagonist of Thimble Theatre alongside Olive Oyl, Ham (as "Harold Hamgravy") was characterized in the earliest strips as a nondescript "actor" whose character traits, identity and age would shift (to varyingly drastic degrees) depending on the theatrical idioms a given day's strip was lampooning. As Segar gradually removed the theatrical satire (and its accompanying iconography, such as the "cast list" initially listing the "roles" Ham and Olive performed within a given strip) from Thimble Theatre early in 1920, however, Ham increasingly coalesced into a defined identity and role as Olive's lethargic, long-suffering boyfriend. The strip, in the ensuing years, would settle into a minimalistic gag-a-day format focusing on the daily lives and foibles of Ham and Olive (with the size of Ham's nose and the abysmal quality of Olive's baking and singing among the most frequent themes), with Castor a minor supporting player. However, as the strip evolved into a more serialized format circa 1923, Ham was increasingly supplanted by Castor, owing to Segar's redevelopment of Castor into an ambitious-yet-bumbling everyman. While increasingly relegated to the role of Castor's sidekick by the mid-1920s, Ham nonetheless retained a focal role in several storylines during this period (such as the 1925 Nasalia arc and the sequence introducing Cylinda Oyl in 1926).

Ham's waning prominence as a regular was arguably accelerated by Segar's introduction of both Cylinda and her vindictive father I. Caniford Lotts into the strip in 1926, thereby providing Castor with a set of supporting characters and dynamics both confirming his centrality and, perhaps to Segar, rendering both Ham and Olive redundant. While a focal character in the sequence directly concerning Cylinda's introduction, Ham's presence in the daily strip's narrative noticeably diminishes (beyond several sporadic secondary roles, chiefly as an accomplice to Castor in redeveloping the nonparkable chewing gum invented by the latter into a material for golf balls). Following Castor and Cylinda's wedding, he ultimately disappeared entirely (alongside Olive) by June 1927; the pair would likewise vanish from the Sunday strip five months later. Segar would, however, remove both Cylinda and Lotts from the strip by mid-June 1928, leading to Ham's reintroduction mere days later: emotionally and financially destitute following his separation from Cylinda, Castor seeks refuge in a seedy boarding house in which a bedraggled and depressed Ham is revealed to reside, having descended into the underworld following yet another breakup with the similarly-returning Olive. The ensuing storyline, concerning Ham's attempts to reintegrate into society and eventual pursuit of an (elderly) woman for her wealth, is thus the first sequence of daily strips to focus on Ham in two years. Ham would similarly return to the Sunday strip in January 1929, serving as a co-star to Castor within the remaining fourteen months of the Great American Desert Saga.
Ham's renewed prominence would, however, prove to be short-lived: four months into the following dailies storyline, Castor, accompanied by Ham, hired the then-unknown sailor Popeye to man his ship for a voyage. Intended as a minor supporting character, Popeye proved so popular with readers that he was made a permanent member of the main cast by August 1929, midway through another storyline focusing on Ham and Olive's volatile relationship. As Popeye's role expanded, Ham was increasingly phased out of the comic, thereby vanishing from the daily strip as a speaking regular in October 1929 (mere weeks following Popeye's promotion to lead). While Ham would remain a lead within the Sunday continuity for months afterwards, Popeye would both replace him as the object of Olive's affections and oust him entirely after a duology of Sunday strips run in March 1930, where Ham is shown furiously competing with the sailor over her; Ham disappears from the sequence altogether with the March 16 strip, in which his absence is attributed to him being "out of town". Barring two background appearances in May 1930, Ham subsequently vanished as a regular altogether; while he made occasional appearances in the later Popeye strips (including an "official" return under Bobby London), he never regained much prominence.
Role in later media
Ham would star in a backup feature in early Popeye comic books by Bud Sagendorf, in which he had reinvented himself as a cowboy in the Far West, often accompanied by Percy Pink Skin. In the later Popeye the Sailor #144 (1979), which was a celebration of Popeye's 50th birthday, Ham made a very brief cameo, still in his cowboy persona.
Ham made a supporting appearance in the 1980 film, Popeye, where Olive has recently left Ham and has since begun dating Bluto at the film's opening. He was shown early in the film ineptly chasing his own hat, only to keep kicking it further away. He was played by Bill Irwin, listed in the closing credits as "Ham Gravy (Old Boyfriend)".
Gallery
External links
Characters