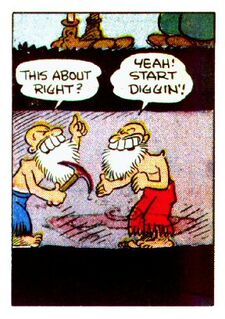 The Gopher People, also known as Burrowers, are a bearded, subterranean race of humanoid dwarfs. They are stealthy, mischievous and thieving, looting all the valuables they come upon, usually under the cover of darkness. They reside in the arid desert valleys of the American Midwest. Gopher People first appeared in a comic book story by Bud Sagendorf in 1950 for issue #13 of the Popeye comic book. They were featured in the third story, "Adrift!".
Appearance
Gopher People are a short race of men resembling dwarfs. They have bald heads, long white beards, very large teeth, and small squinty eyes. They only wear pants and no shirt or shoes.
Biography
Past
The race of Gopher People once numbered in the millions throughout the American deserts. Today they are nearly extinct and there are only a hundred left. They have long been feared by anyone lost and adrift in the desert.
Culture
Gopher People dwell underground constructing vast systems of tunnels and shafts to the surface. These tunnels serve as living space, storage and means of travel throughout the desert. They fashion entrances out of the natural landscape such as rocks and vegetation to conceal their habitat. They also develop a number of smaller shafts to the surface to raise small pipes up for observation and communication.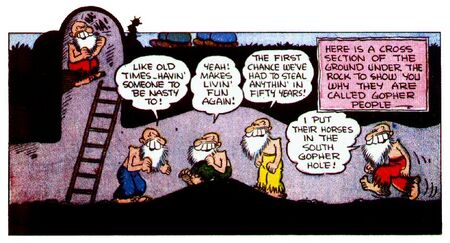 Their system of caverns provides excellent fortification and the various accessways allow effective means of delivering attacks by projectile weapons, such as water cannons, rocks or just throwing dirt at their victims. The rock formations they make their entrances of, and the hard-packed desert ground, are durable enough to withstand even the most powerful forces. The tunnels also provide shelter from the desert climate while their victims must endure such hardship in any prolonged fight.
They steal what they need to survive and their living underground makes it hard to track them down or recover what is stolen. They are mischievous little villains who take great pleasure in tormenting outsiders that happen into their region with pranks, jokes and tricks. It is also not beneath them to deliver insults and other verbal abuse. Kidnapping and/or slavery is something else they are capable of if they have the need for any specialized service. A victim can very easily be captured by a well-dug hole under his or her feet.
Gallery
External links

Characters

Last Updated: 2/6/2021