"Getting Popeye's Goat" is an episode from The All-New Popeye Hour's "The Adventures of Popeye" segment for Hanna-Barbera Productions in association with King Features Syndicate. It first aired on November 11, 1978 and was directed by George Gordon, Carl Urbano and Rudy Zamora. Popeye was voiced by Jack Mercer and Olive Oyl was voiced by Marilyn Schreffler.
Plot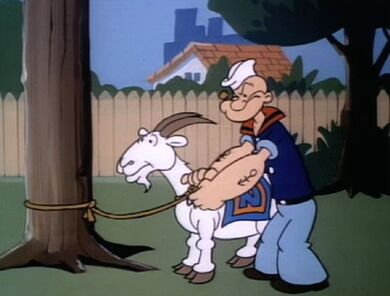 Popeye has been assigned to look after the Navy Reserve mascot for the day. The mascot is a pet goat with a ravenous appetite. He visits Olive with the goat in tow, and it eats everything in sight. He ties the goat up in the yard and that is when the real trouble begins.
The goat escapes through Olive's fence. After chasing the goat through town, Popeye finally catches up with it at a construction site. There it somehow gets up on a building under construction. Thinking that the goat has eaten a box of dynamite, Popeye eats a can of spinach so that he can get it down safely. Popeye manages to get through the day and cure the goat of its appetite.
Episode details
This segment was from episode 10 in the series, aired in season 1, episode 10 of The All-New Popeye Hour. Below is a list of the other segments for this episode.
External links
Trivia