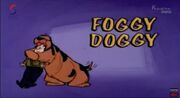 "Foggy Doggy" is an episode from The All-New Popeye Hour's "Dinky Dog" segment for Hanna-Barbera Productions in association with King Features Syndicate. It first aired on October 14, 1978 and was directed by Ray Patterson and Carl Urbano. Monica was voiced by Julie Bennett, Sandy was voiced by Jackie Joseph and Uncle Dudley was voiced by Frank Nelson.
Plot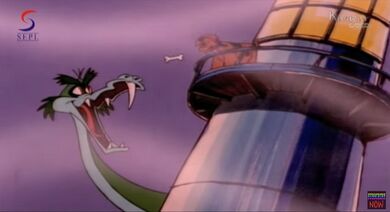 Uncle Dudley is complaining about the cost of dog food. Sandy tells him she can help because she has accepted a job for her and Monica to do some lite housekeeping. Monica points out that Sandy has read the ad wrong because it is really a job for lighthouse keeping.
It is too late to leave the lighthouse because, as they chase after Dinky, the lighthouse keeper leaves for his vacation in their boat. As he leaves, he warns them about the Bog Beast. They hope it is a joke but find out that the monster is real.
All looks hopeless when the monster appears, a storm rolls in, a ship is in danger and the lighthouse is out. Dinky saves the ship by turning on the searchlight in time for the vessel to turn away from the rocks. Plus, he not only saves the girls from the creature but makes friends with it and gives it his bone.
Episode details
This segment was from episode 6 in the series, aired in season 1, episode 6 of The All-New Popeye Hour. Below is a list of the other segments for this episode.
External links