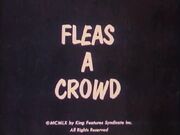 "Fleas a Crowd" is a 1960 episode of Popeye the Sailor.
Plot
Popeye is showing off his stage act, a flea circus. Brutus is tired of hearing the rave reviews about it, so he destroys the act by setting a dog loose on stage.
Trivia
This episode first aired September 16, 1960
Directed by Bob Bemiller
This is one of 10 episodes produced by Gerald Ray Studios for the Popeye The Sailor TV series.
This episode is available from Warner Archive on the Popeye the Sailor The 1960s Classics Volume One DVD set.
External links